We can be heroes
Even just for... the time we run to the supermarket!
True heroes keep others safe. AdventuRoad channels your inner hero every time you have to venture out of your home. This mobile routing and gaming app identifies the fastest and safest way to reach your destination, and challenges you to complete the journey in the shortest amount of time.
In a true race against time and danger, you are guided to avoid crowded spaces and protect vulnerable, higher-risk individuals by keeping your distance from areas such as hospitals and senior living facilities. This way, you get back home both quickly and safely, and keep others safe too.

The problem we solve
Even during times of isolation, we have to get groceries, run errands, and go outside for fresh air. While we're outside, we should follow social distancing procedures and make some extra effort to protect people in higher risk groups, by reducing their exposure to us.
Our goal is to decrease the risk of Covid-19 infection, for ourselves and others, while enabling everyone to get out of the house in a safe manner. Going outside is necessary for supplies and for health, but we should do it mindfully, staying away from areas with vulnerable groups at higher risk of exposure.
While working on this project we were inspired by our grandparents. They may not go out very often. But when they have to leave their homes, they rely on all of us to keep them out of harm's way. We can achieve this through coordination, and we can have fun doing it!
We believe that with the right algorithm, we can balance the need to go outside and the necessity to limit as much as possible the spread of Covid-19.

The solution we propose
Our solution is a mobile application. It combines route planning with gaming elements to:
Recommend the fastest and safest route to a given destination for someone travelling on foot or by bike
Encourage the user to complete their journey in a timely manner
Enable volunteers to help those in need
Once you install the app and create an account, you are at the "Novice" level. You start with 100 life points which stay intact while you are at home. When you need to go outside, you open AdventuRoad and enter your destination. The app generates a safe route, avoiding high-risk locations and heavily trafficked areas.
When you leave your starting location, your journey begins. You need to be quick, because if your journey takes longer than the predicted time, you lose life points in proportion with your delay. If you are fast, you gain life points instead. You can also lose your life points by steering away from the route and crossing designated risky areas - so it's better not to take detours!
The goal is to get back home with as many remaining life points as possible. You can also recharge your life points by correctly answering daily quizzes on contagion risk, Covid-related rules in your area, and how to deal with crisis situations in general.
By preserving your life points intact for several days in a row, you gain experience points and eventually level up: from Novice, to Knight, then Paladin, to finally become a Legend.
However, the safe routing is only the beginning of your journey. We aim to develop the volunteering aspect of the app by including quests where you can offer to help higher-risk groups. In the game, having graduated from the Novice level, you can gain valuable experience points by running errands for those requesting help (such as shopping, collecting packages and more); and lose them whenever you receive a bad review for your assistance.
Impact in the crisis
Sooner or later, the world will come to terms with Covid-19 and we will all go back to our everyday lives. Without proper precautions, this can be very dangerous: after all, the second wave of the Spanish flu was much more lethal than the first one.
We will all have to balance our need to go back to normality and move around the city, against the necessity to prevent the virus from spreading further, or again. With AdventuRoad we aim to help reduce the risk of contagion to the benefit of the app users and society as a whole, but in particular keeping more vulnerable, high-risk populations in mind.
Besides providing actual support to people in need, the "person in distress" quest in AdventuRoad also reinforces community spirit. Finally, the quiz feature of the app carries out a long-term educational function: the user is informed and prepared to react to epidemics (or any form of localised risk) in a fun way.
Impact to society if the idea is implemented at scale?
Facilitate large-scale coordination to minimize contagion risk, without prompting people for health data.
Exploit network effects: the more people use the application, the more accurate it is and the better we coordinate.
Encourage the youth to volunteer in their communities.
Raise awareness and prepare the young to react to situations involving the avoidance of risk areas.
Help businesses by streamlining queues to large stores and enabling customers to visit smaller shops in a coordinated way.

Where we see this going
Do you want to find AdventuRoad in your app store? So do we! To bring our idea to life, we need to ensure fast response, scalability and offer an enhanced gaming experience.
The application can be hosted using cloud services, which also provide opportunities to use database and serverless services. These do not have much overhead, and are therefore easily scalable. The routing service is likely to be the most "resource-hungry" part of the project. Still, the algorithm can be run using a serverless interface, which allows easy scalability and runs detached from the other application services. The algorithm can connect to a database instance using location queries to determine what "high risk" locations should be accounted for during routing.
Relying on these services means that the application scales seamlessly as the user base grows. Utilizing life points, experience points and rankings, users will be rewarded for using the app over time. As time passes, the user base can be maintained through new features. Health functionality could be added in the future for the pursuit of an individual health strategy through gamification.
Given the current circumstances, we envisage the launch and evolution of our product as an accelerated four stage process:
Phase 1. Build AdventuRoad 1.0. Scale the prototype using Google Cloud and the Google Maps Hosting Platform. AdventuRoad 1.0 will offer the safe-routing feature including GPS data.
Phase 2. Pilot the AdventuRoad 1.0 minimum viable product in selected cities.
Phase 3. Launch on app stores.
Phase 4. Release AdventuRoad 2.0, adding the volunteering and challenge modules.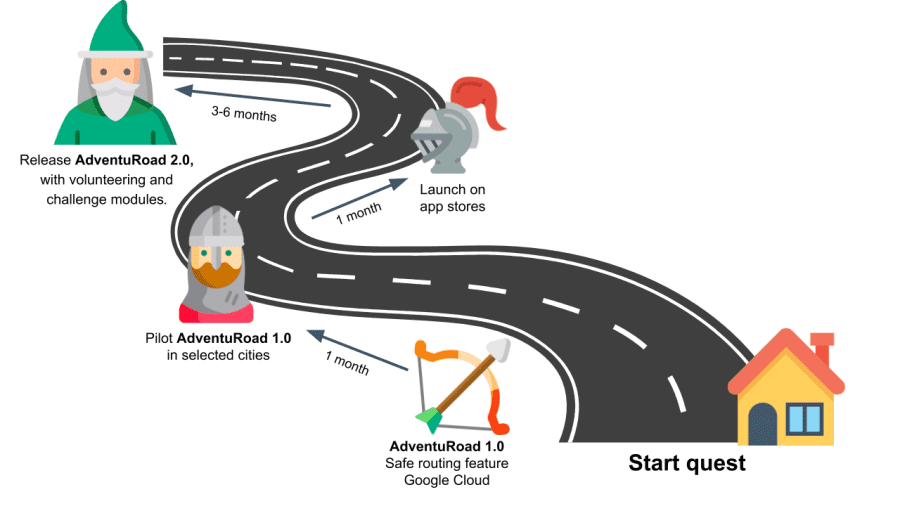 For the game to be effective in preventing contagion, it is crucial for it to be actively used by a critical mass of people inhabiting the same geographical area, such as a city. This is why it is essential for the app to stay free. To this end we would need to rely on partnerships to cover running costs.
We need sponsors
The sponsorship of European institutions will create trust and make an important difference in encouraging adoption. Partnerships with other startups with similar initiatives can ensure faster time to market for AdventuRoad 1.0.
Partnerships with NGOs and other volunteering organisations will help promote app usage within their networks (especially relevant for the release of AdventuRoad 2.0, including the person-in-distress feature). To help reduce development and maintenance costs, we can partner with the private sector, or lobby Google to sponsor the initiative during this difficult time, as a corporate social responsibility action on their part.

After the crisis
Threats to our health are not circumscribed to Covid-19. Fortunately, AdventuRoad can be used to fight similar contagion threats such as the seasonal flu. And what's more, the game can be tweaked to help users avoid dangerous areas of all sorts, such as those at risk of flooding when the weather is bad, or parks and forests when it is too windy. It can also be used to protect the environment, i.e. keeping people from beaches when turtles hatch. At the same time, AdventuRoad it be enhanced to invite people to hang out in certain areas of social interest, such as museums, monuments, bookstores and parks.
What guides us
We do not forbid, we nudge, respecting individual freedom.
We do not collect personal health data.
We only use geographical location data and the basic information the app user provides when making an account.
We propose a creative solution building on existing technology, easy to implement and scale.
We gamify contagion avoidance by creatively combining existing technologies to address a completely new challenge. We borrow from navigation apps and enhance the routing algorithm with avoidance logic. We make it fun using elements from quest and adventure games.
Submission deliverables