Content Overview
Inspiration
What it does
How I built it
Challenges I ran into
Accomplishments that I'm proud of
What I learned
What's next for V for Volunteer
Getting Started
Research
Reach out
Final food for thought...
Acknowledgements
Inspiration
I wanted to create a solution that solves a business problem in a creative and different way. I remembered a presentation I attended a couple of years ago in the Pega Customer Engagement Summit in London and specifically a reference that said customer satisfaction is linked to employee engagement.
This inspired me to start unravelling the direct and indirect elements that affect both customer satisfaction and employee engagement which led me to several articles and research papers around the subject of volunteering and its benefits on employee engagement, productivity and businesses that have volunteering embedded in their ethos and culture.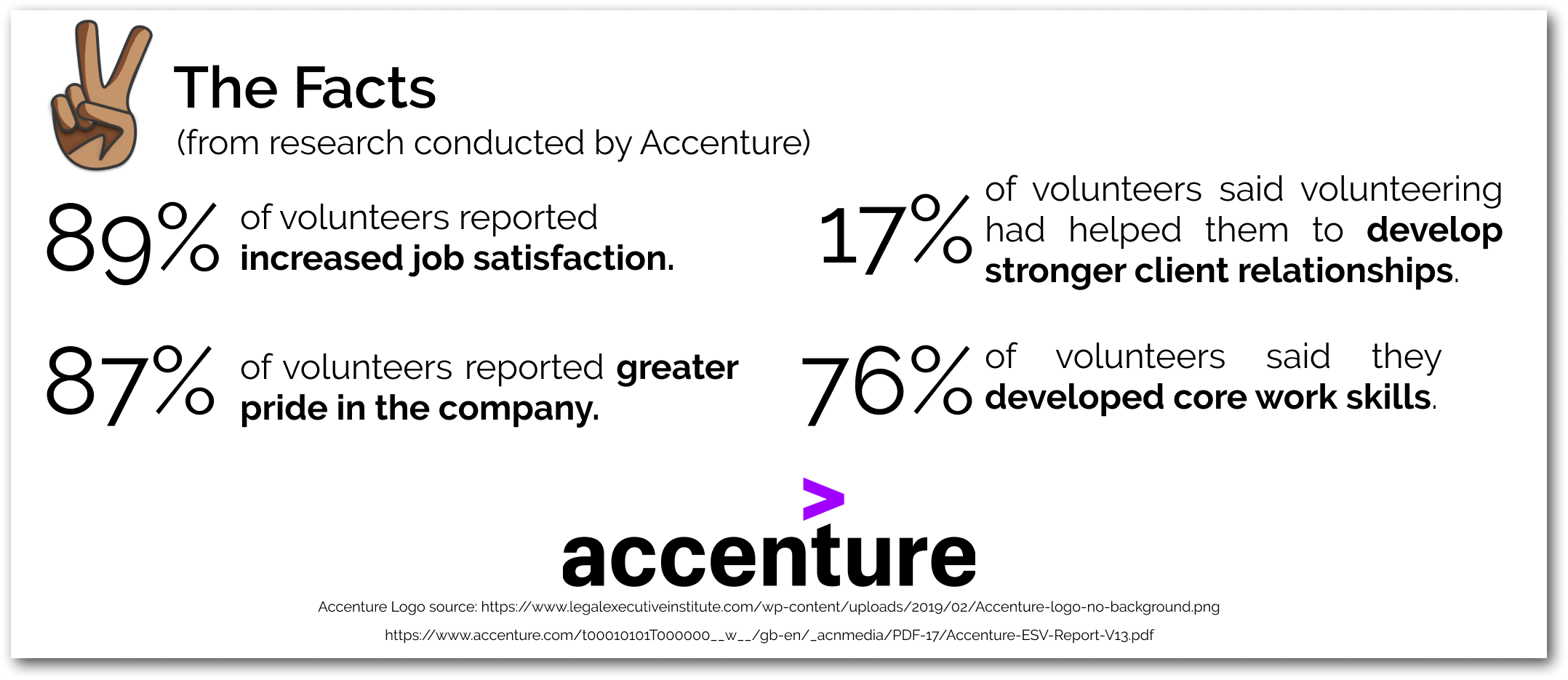 Research Paper from Accenture
That made me realise how much of a business problem missing out on volunteering opportunities is - or not having a structured way to for employees to volunteer and gain skills. Volunteering has been proven to be such an effective way to increase employee engagement, increase soft skills and even technical skills that it's practically an up skilling opportunity for you.
Besides the direct benefits volunteering can have to the individuals, businesses gain lots from encouraging employees to partake in volunteering opportunities. Not just the fact that by raising your employee engagement you're going to increase your customer satisfaction but also gain brand awareness and most importantly build a stronger community where your business may be operating. Strong businesses are built in strong communities.
But sometimes it's hard to fully understand benefits that volunteering could give to you as an individual, your business and your local community.

Research Infographic from Deloitte

Research Infographic from Deloitte
Reading all these research papers, stories and infographics and especially the last two references from the Survey conducted by Deloitte. I realised, even though I would love to get involved in volunteering I barely do. So, I started thinking of ways to solve this problem from an individual, business and community perspective. That's what inspired me to create "V for Volunteer".
What it does
The solution sources volunteering opportunities connects them with your employees/potential volunteers and helps them grow their skills in a structured way and rewards them.
The main functionality of the platform and where it has an edge compared to other solutions is the ability to create and join in volunteering opportunities. Volunteering needs to be structured but not rigid. This solution allows anyone in your organisation to post a new volunteering opportunity for approval and to find colleagues within your organisation eager to take a new challenge and grow their skills.
Post a New Volunteering Opportunity
Anyone in your organisation can use the application to create a new volunteering opportunity. In the future, volunteering opportunities will also be able to be created by partnered charities, foundations and volunteering organisations by either sending an email to a shared mailbox and using Email IVA to create a new opportunity or you will be able to choose to embed the DX API or Mashup Web to your company's website.
When a new opportunity is created, it gets routed for approval by one of your organisations appointed Volunteering Coordinators and once that's approved the application automatically creates as many Volunteering Vacancies as needed and posts them on the Volunteering Board.
Auto Pega Space Creation
The only way of creating a Pega Space currently is by going to the Space tab. End users may not realise the benefits of using Spaces or may want to create a Space for a particular case… luckily the application takes care of that by suggesting to the end user if they would like to create a Pega Space automatically for the Volunteering Opportunity and add a reference of it to the case so that Volunteering Vacancies can have a direct link where Volunteers can collaborate, exchange information and so on.
Pega Pulse Communicate
The application posts messages automatically to Pulse when a Volunteering Challenge has been completed. Volunteers can also use the Pulse chat in the newly created Pega Space to communicate within their Volunteering group.
Search for Volunteering Vacancy
You can use the search functionality in the Volunteering Board to find a vacancy for you to volunteer for.
Using the Cosmos UI and DX API to show each Volunteering Vacancy as a card, users can get all the information they need to get them interested in getting involved! And in addition to that, a quick link to the associated Space (if it has been created as part of the Volunteering Opportunity)
Ensure organisational compliance
The application ensures organisational compliance by capturing if the Vacancy requires managerial approval and automatically making the decision if it needs to get approval by the volunteers manager prior to them commencing on their new mission.
Volunteer Reflection
Volunteers can use either the WebApp, mobile app or the chat bot to log their reflection. Keeping a journal/reflecting in what you have done and doing is an important part of the growth and skill set enhancement of the individual. The application provides a structured but flexible way to reflect on your experience, to plan and get the most out of your volunteering mission.
Volunteer Feedback
It's very important for the organisation to be able to collate feedback from their employees who have volunteered so that they can see the real positive impact they're having. The volunteers add feedback at the end of each Volunteering mission which gets reviewed by the Volunteer Coordinators and is posted onto the Volunteer Stories Board for everyone to get inspired. In the future, the Volunteers will be able to reassess their skill set as part of the completion of a Volunteering Mission.
Reporting
Reporting is very important so that you can gauge the impact and effect you're having. The application comes with a Dashboard view of both qualitative and quantitative reports. In terms of qualitative feedback you can view the amount of volunteer days, current volunteer statuses and types of volunteering. In terms of qualitative feedback in the Dashboard, there are cards from each volunteer that get posted once the whole Volunteering Opportunity has been completed.
Your Volunteer Profile
You can use your Volunteer Profile to have a look at your current and past Volunteering Missions, Kudos Points and skills set matrix. In the future, Volunteers will be able to link their profile to the personal and professional goals and update their skill sets via their profile.
Kudos Prizes, Gamification and Machine Learning
The application has gamification built into it to attract volunteers in Volunteering Vacancies that may not be very popular. Using Predictions Studio case type completion prediction, the application makes a decision to increase the Kudos Reward points for that mission.
The Volunteer can earn kudos points which they can go and exchange in the Kudos Store. The Kudos Store prizes can be set by the organisation, if the organisation wants to give a special prize such as Pega World tickets, concert tickets and so on. But also other people can donate prizes to the Kudos store.
How I built it
I started by focusing on the centre of the process... the microjourney, the rules and the 'brain' of the operation.
Highlighting the most important transaction of the solution, the 'Volunteering Mission' I started by defining the personas alongside with the data elements, the business rules needed (Approvals processes and routing) and the intelligence part of the solution which would manage the supply and demand of the requests.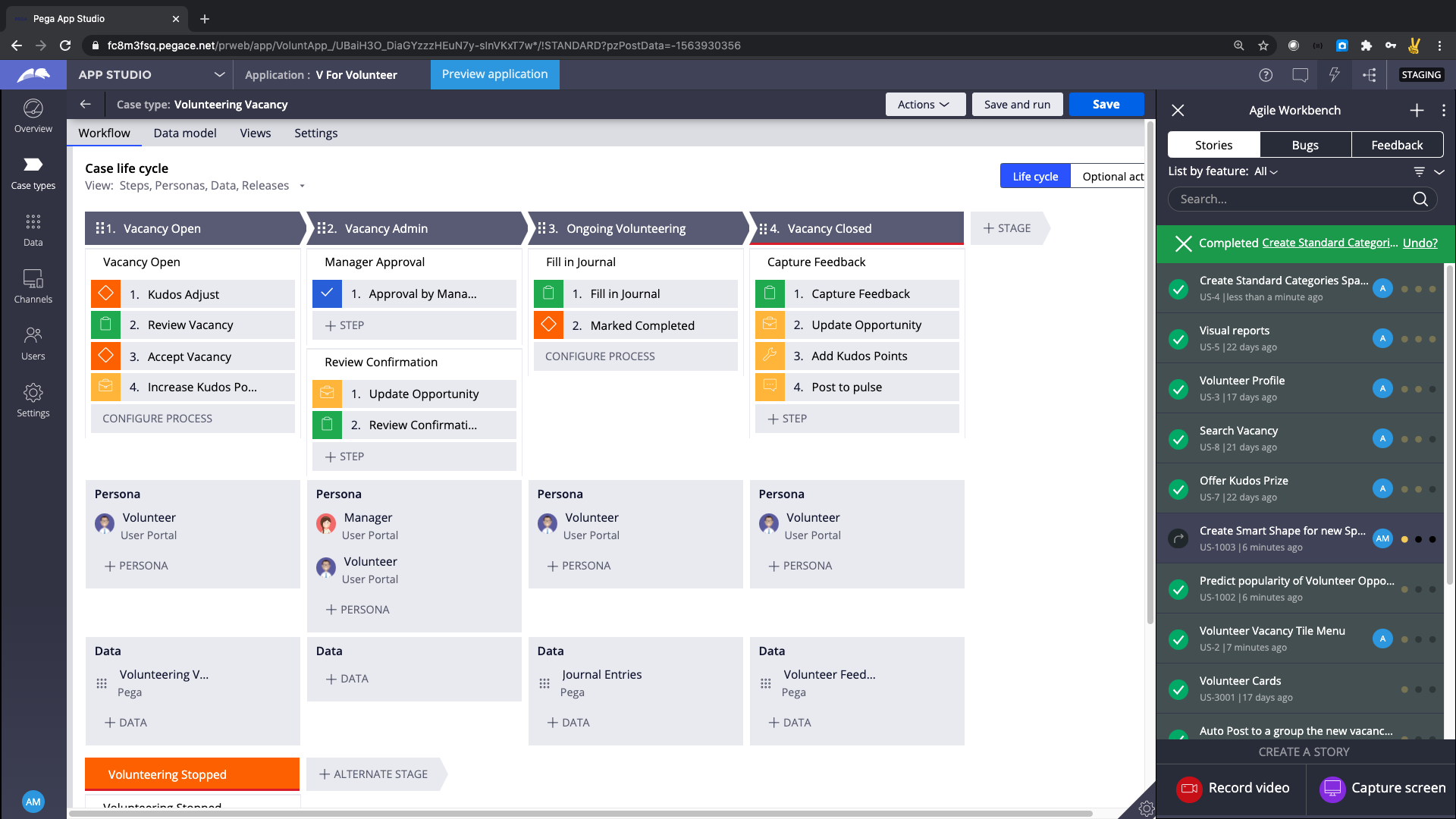 (above) Pega App Studio - View of Microjourney and Personas in 'V For Volunteer'
This approach meant that the solution can be omni channel without having to start building any custom logic or siloed view of the data within the application.
A key point that was highlighted in the microjourney looking at the business architecture was the fact that multiple people could be volunteering in multiple vacancies under one 'Volunteering Opportunity'. As this was my first time developing on 8.4 I decided to take a look at Pega Spaces and found these to be very fitting for a use case where you need to coordinate and collaborate with a team. As there wasn't a way to create a new space or post to an existing space from App Studio I created the logic to allow the end users to create their own Space and attach it to the case.
As part of this, I created a Smart Shape (Post post to an existing Social space) which I will be looking to componitise (alongside with a create Pega Space Smart Shape) and submit to the Pega Marketplace in the future.
While working on the key microjourney I soon realised that the relationship of a volunteering opportunity and a vacancy can be one to one or one to many. As I already had the basis of the microjourney mapped out, it was easy for me to abstract the Volunteering Mission into a Parent/Child case structure.
By doing so I created a 'Volunteering Opportunity' which has 'Volunteering Vacancy' as a Child Cases. I then started creating all the logic required in the Parent Case in order for users to be able to create New Opportunities that would get the correct organisational approval, will capture any additional managerial approval requirements and will automatically create Vacancies and post them to the Volunteering Board - alongside automatically creating a new Pega Space if the user selected to.
An initial idea was to create a 'brain' to manage the supply and demand of the requests. While researching the new features and techniques the Pega platform has I decided to used the out of the box model but create a custom 'adjustment' mechanism with the introduction of gamification.
Using the Pega Predictions Studio I create a prediction to find out the likelihood of a volunteering vacancy getting completed. As you can assign any type of proactive action based on the predictions I created a Local Data Storage Data Type that with the use of a Data Page is capable of initialising and maintaining Volunteer Kudos Points.
I identified the first stage of the Volunteering Vacancy being the point within the microjourney that would give insight if the case is to be completed. Maybe not in the initial stage, but if the Volunteers Manager had to reject the Volunteering mission or the Volunteer half way through their mission they gave up, the case would move to the initial stage where the prediction would be used to increase the Kudos points.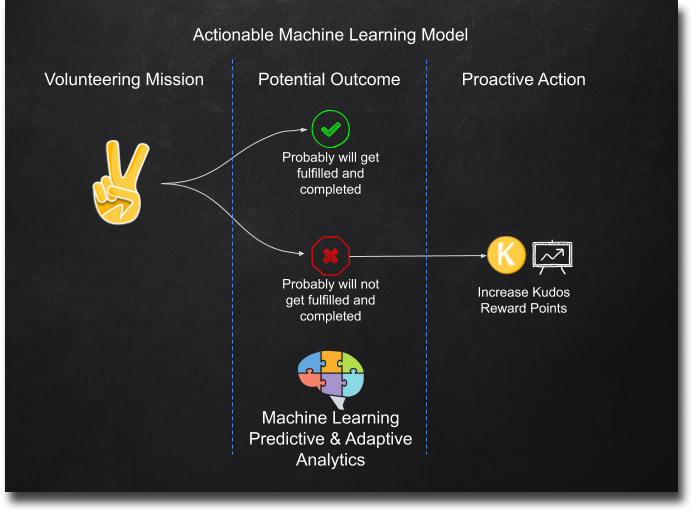 (above) Actionable ML Model used within the application
Challenges I ran into
One of the key challenges I ran into and a huge lesson learnt was not using savable data pages right from the start. It's important to take time to understand the new features of the platform to ensure you're building the solution in the right way.
Accomplishments that I'm proud of
I created a Smart Shape as a result of working with Pega Spaces and seeing the potential they could have and how Pega App Studio users could interact with Spaces.
Pega Spaces are fairly new (at least to me!), initially I didn't really know what to make of them but then I saw their potential. I felt like this is a great way to organise teams and work but thought it would be good to guide users to when they should create new spaces through a case rather than only be able to create new ones in the Pega Spaces tab. I incorporated Spaces in the Volunteering Opportunity as an optional preference to encourage collaboration. When the user selects that they would like a new Space created, the solution creates a new Space, pins the case to it and also inserts a reference to the Case and Child Case(s).
As this was a new idea I created the rules within the application but I have since started abstracting the rules into their own component and have exposed the functionality as a Smart Shape that all Pega Platform users will be able to import into their solution and use the smart shapes in Pega App Studio.

(above) New Smart Shape [Pin Case to Group] - to be 'componentised' in the future and utilised by the solution in the future
What I learned
This has been a great learning experience. I don't have a lot of experience in working with the Pega platform and especially Pega 8.4 but I learned lots of knew things such as:
How to create report definitions
How to create a chatbot in Pega
How to create Case Type predictions
How to create and user saveable data pages
The importance on working on the micro journeys prior to any major development and understanding the key issues you're trying to solve (by taking a hands on approach and using Pega Academy)
What's next for V for Volunteer
1. Enhanced employee skill set functionality
The solution already comes with a skillsets feature which you can edit and add the skills of the volunteer. However, a future feature will include the ability for the Volunteer to make a 'self assessment' of their skills sets and be able to connect these to their professional development. In addition to that at the end of each Volunteering challenge, the Volunteer would be able to update their skills and add knew skills they felt they gained from the experience.
2. Get feedback from Volunteering buddies
Using email IVA the solution will be able to (as long as the Volunteer agrees) email the people the Volunteer interacted with during their mission, get some feedback to allow the Volunteer to review that feedback in order to reflect on what they've done and what they could have done better.
3. Smart notifications to match volunteers looking to improve in areas new opportunities are based in
This feature is the one of the most ambitious ones. The solution will be able to find what the Volunteers have entered in their self assessment and match Volunteers with challenges that would help them grow in those specific areas. This would also require a more upfront list of skill sets at the Volunteering Opportunity and decisioning features.
4. DX API exposed in your company's website to allow partner charities, foundations and volunteering organisations to create new opportunities
Leveraging the power of the DX API, the solution will be able to be embedded in your website to allow you to collaborate with local Foundations, Charities and other organisations that require Volunteers.
5. Log my current volunteering missions
Do you already Volunteer for a special cause? The vision is for the solution in the future to allow you to log your current Volunteering missions so that you can link that good work to your personal and professional development in a structured way and gain recognition.
Getting Started
Due to the GitHub files size limit being 100mb and the Product Rule being slightly larger (129MB) the Product Rule is hosted on a publicly available Google Drive folder which you can download it from.
The out of the box solution comes with four operators. To get a feel for the application and a general demo, you can use the SudoDemoVolunteerUser operator that has access to perform all actions. If you would like to see how each role within the application interacts then you can use the three set operators and switch between them to create, approve and volunteer for an opportunity.
Once you have imported the application, you will need to go and enable the out of the box operators and assign them a password which you will need to change at first log in.
Out of the box operators:
DemoVolunteer (Can create volunteer opportunity and volunteer for existing vacancy)
DemoVolunteerManager (Can create volunteer opportunity, volunteer for existing vacancy can approve volunteering for DemoVolunteer)
DemoVolunteerCoordinator (Can create volunteer opportunity, volunteer for existing vacancy and approve new volunteering opportunities)
SudoDemoVolunteerUser (Use this role if you want to take a quick look at the application. This role can create, approve and volunteer for any vacancy allowing you to go through the demo without having to jump from operator to operator.)
Roles
The solution has kept the roles simple. You can assign the out of the box cosmos 'VoluntApp:Users' role to a Volunteer/Manager (and just reference the Reporting Manager in the Operator Rule) or assign the 'VolunteerCoordinators' to a user that can do the same as a Volunteer/Manager but also approve new Volunteering Opportunities. The Admin role is set as standard 'VoluntApp:Authors'.
Research
A 2020 Vision for Employer-Supported Volunteering (Accenture)
https://www.accenture.com/t00010101T000000__w__/gb-en/_acnmedia/PDF-17/Accenture-ESV-Report-V13.pdf
TIME WELL SPENT - A NATIONAL SURVEY ON THE VOLUNTEER EXPERIENCE (NVCO)
https://www.ncvo.org.uk/images/documents/policy_and_research/volunteering/Volunteer-experience_Full-Report.pdf
TATA Engage (TATA)
2017 Volunteerism Survey (Deloitte)
https://www2.deloitte.com/content/dam/Deloitte/us/Images/Misc/infographic/us-2017-volunteerism-infographic.pdf
Corporate Volunteering Survey: The Extent and Nature of Corporate Volunteering Programs in Australia
https://search.informit.com.au/documentSummary;dn=149230874020089;res=IELFSC
CIPD Employer Supported Volunteering Guide (CIPD)
https://www.cipd.co.uk/Images/employer-supported-volunteering-guide_tcm18-27612.pdf
Information on The Institute of Customer Service
https://www.instituteofcustomerservice.com/
7 business benefits of employee volunteering (SAGE)
https://www.sagepeople.com/about-us/news-hub/benefits-volunteer-days-employee-engagement/#
NCVO WHAT ARE THE BENEFITS OF VOLUNTEERING (NVCO)
https://data.ncvo.org.uk/impact/what-are-benefits-volunteering/
Reach out
I started this project just as a submission for the hackathon but learning so much about Volunteering and the benefits it can provide to individual, businesses and our communities I've developed a passion for this subject and tried to make a solution that is as close to production ready as I can make it. I hope organisations realise the true potential this solution has to offer them and if there is a take up of this application I would be looking at enhancing its features.
If you would like to collaborate on this in the future please feel free to reach out: https://www.linkedin.com/in/angelomermiklis
Final food for thought...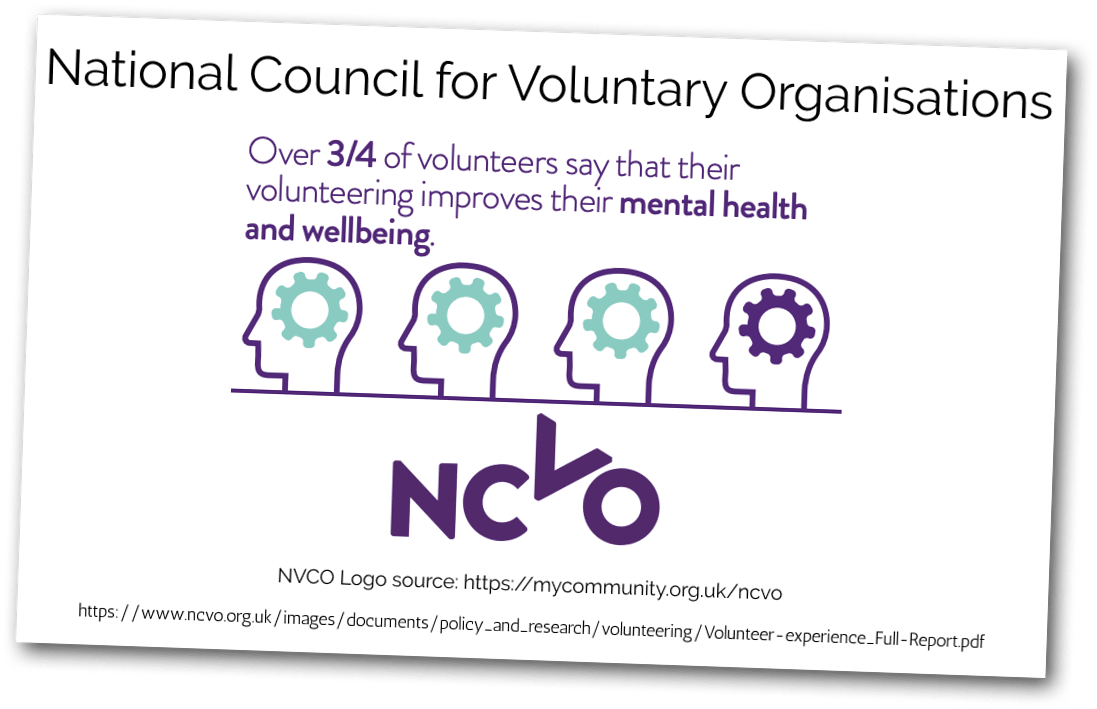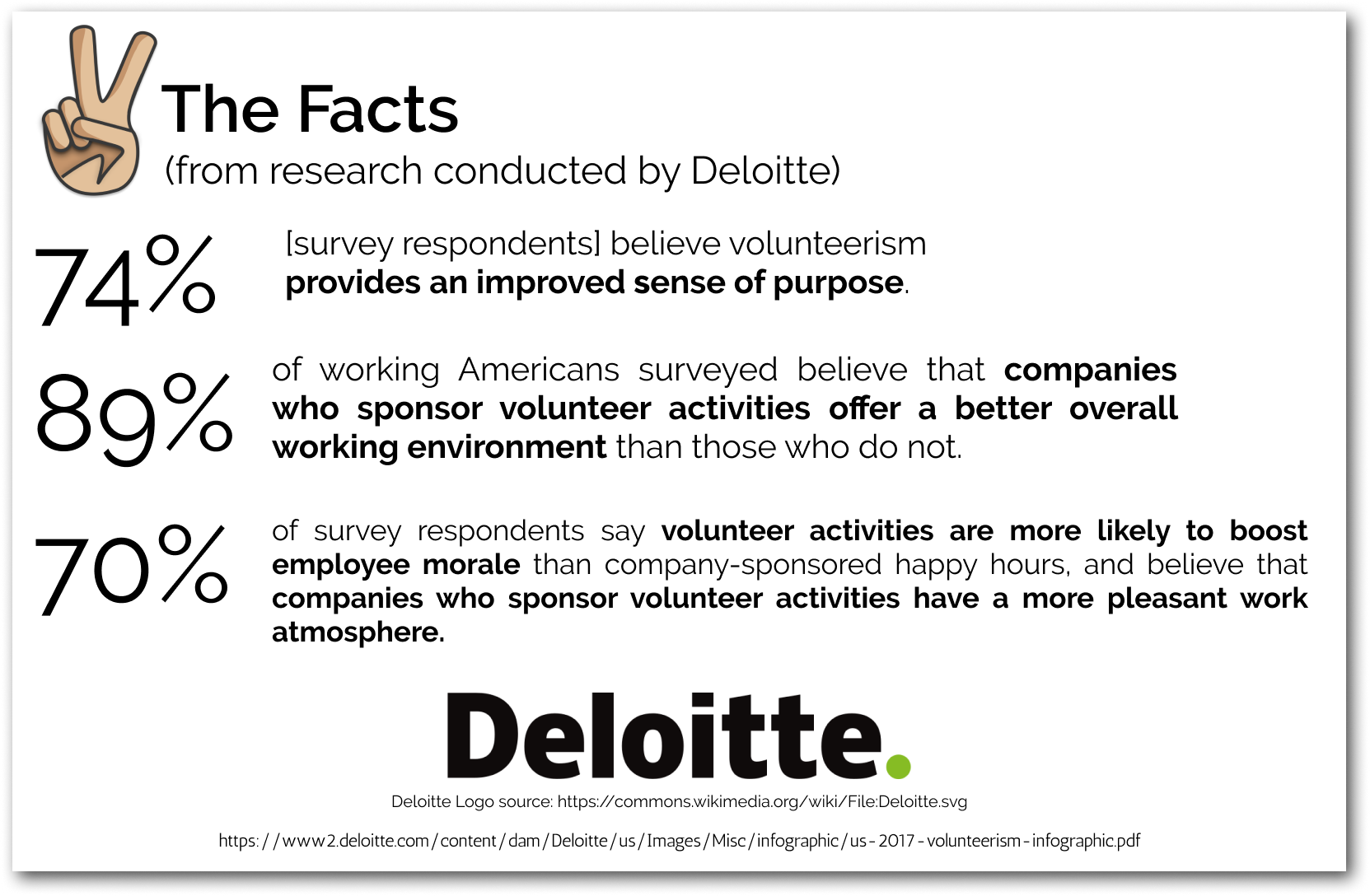 Research Infographic from Deloitte

Acknowledgements
The logo for this project (V/Victory Hand) and Kudos Points coin icon have been created by Angelo Mermiklis as part of this project.
Built With
appstudio

cosmos-ui

dedication

passion

pega-chatbot

pega-cloud

pega-predictions-studio

pega8.4