Inspiration
We not only want buildings to be intelligent. We want the reception process to be automatic and intelligent.
Imagine a new visitor to Tieto building who has an appointment with one of the employees. Our smart receptionist will arrange the appointment.
The idea of smart reception also applies to other buildings such as shopping mall, hospital and bank.
What it does
In our demo, smart receptionist is a chat bot. It does, for example:
queries the current status of the employee with appointment and notify the result ("I will be right there" or "five minutes late") to the visitor.
check room status if requested
if visitor needs to wait, it guides him to the nearest coffee machine through indoor map.
when the appointment is ready, visitor will be shown to the meeting room as well.
The idea can be easily extended to other scenarios such as:
Taking electronic queues in banks/post offices. Waiting time estimation can be dynamically adjusted when people leave
Register automatically during visit (without scanning ID barcode) to hospitals and other systems
Detecting new passengers in busses and charging them based on their route
How I built it
Here is our architecture:
The mobile app (in the center) is smart receptionist. It is driven by Java data rovider, Nodejs Slack Bot as well as the APIs provided by tieto
Java data provider pulls from intelligent building sensors (720 api, etc)
Nodejs Slack Bot communicates between the visitors (who use the mobile app) and employees (who use Slack)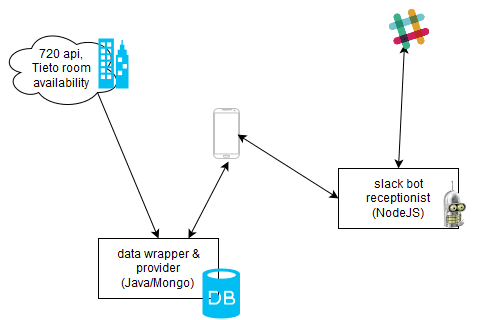 Challenges I ran into
We want to make it available to all areas, including development countries. We made it so, that it could work without internet completely (using QR code on wall to initialize connection). But even bigger challenge was to find place for our team. We have moved like 5 times during event! Participated in hunt for table, chairs, and extension cords.
Accomplishments that I'm proud of
Worked out a cool demo
Slept enough.
What I learned
From Hackathon perspective, it's better to start with some thing simple
What's next for User Friendly Intelligent Building Platform
Build a concrete product
Involve more partners and go global