Inspiration
A VC with large portfolios and multiple deals in the pipeline has a hard time keeping up with news related to their companies. This includes funding announcements, disclosures, key additions/departures, press releases, relevant achievements, and public perception of the portfolio company.
Compounding the problem, there are hundreds of news websites, newsletters and blogs covering startups around the world. Articles shared by the startups themselves only mention their success stories but don't detail any negative sentiments/tone.
We have a solution that helps these VCs keep track of all relevant news in one place - Airtable.
What it does
We've developed a custom block for VCs who are already using Airtable to manage their portfolio investments. The block curates recent news and stories about their startups of interest, analyses the sentiment of these stories, and presents it to the user. It also provides the user with an option to save the stories for later reading and reference.
|

How we built it
We built the block using Airtable UI and Material-UI components within the block's React JS application. Additionally, we used components from Recharts for visualizations. The backend of the block leverages IBM Watson Discovery which is an AI-powered service, to fetch relevant news articles.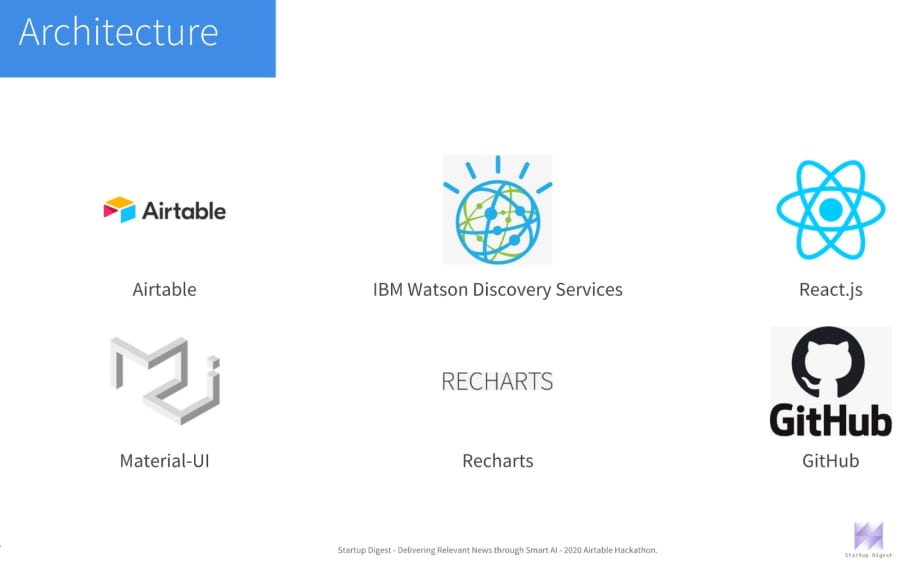 Challenges We ran into
Identifying the right AI services that would be best suited for this application was a big challenge. Most AI news services are built around keywords and don't have the sophistication or the ontologies to identify the firm name and/or people's name along with the relevant keywords. After trying multiple services, including trying to build something on our own, we identified Watson AI Discovery consistently delivered the best results for all recent startups.
We were also cognizant of the fact that we didn't want to add more workflow to the VC's while providing meaningful insights
We had to work through some hurdles in the authentication handshake with IBM's services due to CORS restrictions.
Accomplishments that we are proud of
100s of VCs have been using Airtable to actively manage their deal flow and their portfolios. We are proud that our block, Startup Digest, is able to seamlessly integrate into their current workflow without any changes needed to their current base while providing them valuable and relevant insights around their startups of interest.
Given that most hackathon submissions are usually proofs-of-concept, we are happy with the progress we made in building a complete, end-to-end application.
Although we have all used Airtable in different capacities before, we had never actually used Blocks in Airtable. This is the first time we had used and developed a block on Airtable and were impressed by how easy they were to build, and how powerful they can be. We are very proud and feel accomplished completing our first Block, and will surely be building more custom Blocks in the future :)
What I learned
When designed well, Blocks can be a powerful and effective tool to derive quick insights
We learned a lot about how to build good and effective blocks that can be easily consumed by users. We worked hard to ensure we didn't complicate the process or specialize these blocks too much that they only catered to a very narrow use-case.
Nobody on the team had previous experience using the React framework, so we used this as an opportunity to learn it.
What's next for Startup Digest
We think Startup Digest will evolve to increase VC's productivity by speeding up preliminary internet-based diligence of startups in their portfolio and deal-flow. We intend to become a vital part of the overall diligence process by providing detailed web and social media insights on people and investors that make a startup.