💡 Inspiration -
for all the hard work our teachers do for us, we thought of gifting them something special but you might not be able to go to school and give them something because everything is online, we bring you this platform that will help you gift them something memorable.
⚙ What it does -
this platform is designed for students who want to show their love and respect to the teachers who worked hard for them. Students can send thank you to them in the form of greeting cards, wholesome messages, or even give them some money as a token of respect. If the teacher receives it they will get a notification via twillio as an SMS.
🔧 How we built it-
We first kick started our hello world backend using express.js and node.js then we went on to implement the programmatic messaging using twilio api. Once we had the backend working we built the frontend for the same. Later we added code for generating thank you message card followed by the payment gateway for gifts to the teachers. :heart: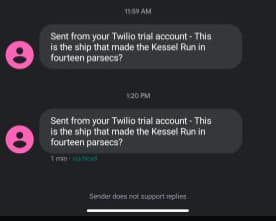 💪 Challenges we ran into -
We tried implementing the paywall with the use of stripe but it was very difficult and we were running out of time, we implemented a prototype that will help us understand how it will work if implemented correctly. Also, We struggled with backend sending 500 status code because the backend could not extract the body parameters. After a long debugging session we realized that the request body wasn't being destructured properly.
📌 Accomplishments that we're proud of -
Even after the challenges we faced , we finished it on time and this project will help in teachers funding as well as to make wholesome memories between students and teachers.
Aaand The app as a whole is an accomplishment. :slight_smile:
📚 What we learned -
We learned the use of stripe and Paysafe APIs although we could not implement it completely, learning the UI was very fun. We learned the use of twillio.
We learnt to collaborate on github as we were constantly pushing code and fixing merge conflicts.
⏭ What's next for -
We are going to make the payment gateway work and collect some fund to purchase a twilio number so that the user can send text messages to all numbers. (The trial account limits us to sending SMS to verified numbers only)
Built With