lang:hu
tags: #COVID19 #I2We20 #HacktheCrisis #save_communities #EUvsVirus #COVIDathon #cohesion #community #cooperation #collaboration #efficiency #permaculture #sustainability #eco-friendly #self-sufficient #cryptography #holochain #DID #DAC
Inspiration
I came up with this idea when I realized:
The globally failing economic, political and *social institutions* induce bottom-up collaborations, because fixing our problems from above does not provide lasting solutions to our needs anymore.
For more than a month in our region with a group of volunteers, we are trying to help mostly the elderly. It was a long and painful journey to map the available resources and to reach the segment. People still don't know what can be the best help in the current situation and how to do it accurately. I dare not mention how personal data was handled, and what kind of abuses took place in the process.
What is unresolved
… is the intra-community resource management and fair allocation of resources, because communities lack the technology to collect, process, and share their available supply, support, and aid capacity as well the shortages.
The pattern
Permaculture (the "science of nature") reveals the patterns for any kind of sustainable system development.
It is time to apply nature's ethics (people care, earth care, and fair-share) to have effective IT solutions available to every collaborative community on the planet.
What it does
Community Network Resource Mapping (CoNetRes) software it's a toolkit that provides a big picture of the supply, support, and aid capacity and needs of a community, to support effective and efficient collaboration inside and between communities.
The toolkit
… can be used to build progressive web applications for resource mapping, on most of the digital platforms, and using gateways in special needs (SMS, Nat, IoT).
The data
is collected using sociocybernetic techniques,
stored in MongoDB using decentralized identity and access management with GDPR compliant privacy and data security,
aggregated through APIs (in relevant cases) and open protocols like Murmurations;
the data collection and actualization is incentivized using ThankYou points,
validated by the community with the help of embedded personal value formula variable (advanced reputation system)
processed with data anonymization using decentralized IDs (DIDs).
The data owner (User/Community) fully controls the stored data and accessibility.
Authentication
… can happen through
the main contact channels (email, phone, social),
OAuth as secure delegated access,
cryptographic hash function with mnemonic
Simple use case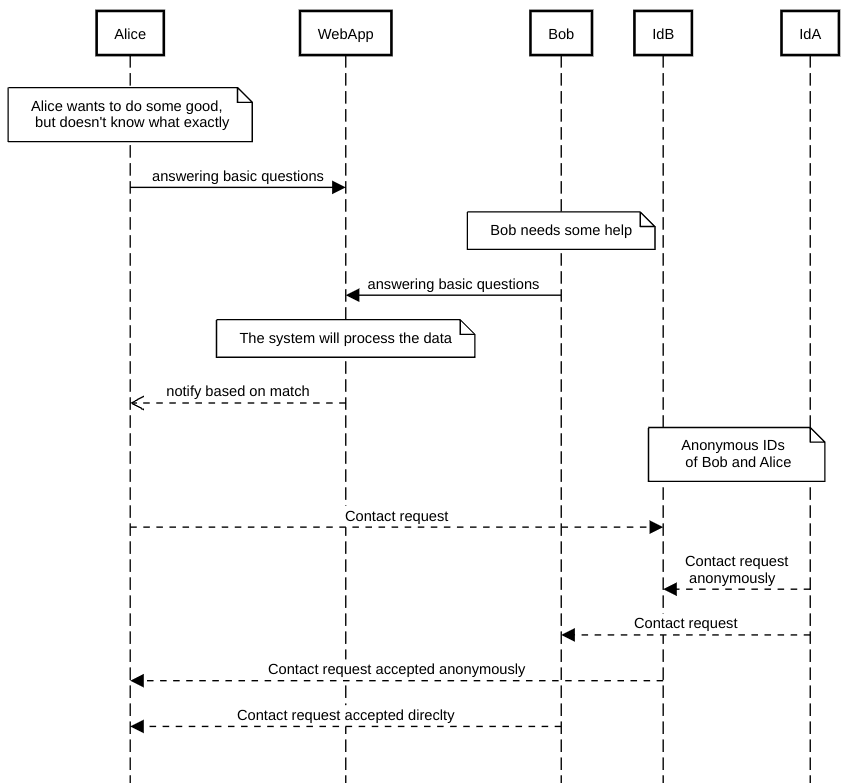 How We built it
We started to develop an open-source resource mapping solution done in an independently and collaboratively, with anonymous data collection and secure information management, which are key roles today! We are developing a highly customizable open-source toolkit for this.
We are using HackMD to clarify the bigger picture and to collaborate on all related information.
Using social interactions and google forms we researched different communities.
The technical background for the development is provided by other open-source solutions, like ßoiler JavaScript framework with codepad, the collaborative development environment running on srvctl.
The main language is JavaScript with node.js, d3.js and Vue.js, using JSON, HTML5, CSS, and python for data processing.
Challenges I ran into
The biggest challenge was to reduce the big vision to a clear and simple workflow to be able to write the first lines of the code. It was challenging and energy-consuming to have a bigger picture of our human resource availability and to communicate our needs in a clear way using incentives. We have no committed programmers available at the moment.
Accomplishments that I'm proud of
We have wide experience-based knowledge about bottom-up communities and socio-cybernetic tools to help resource-mapping and to facilitate collaboration. We found a collaborative development environment and the core developer is in the team.
What We learned
The importance of having a clear picture of our available resources and knowing collaborative ways of managing them.
What's next for CoNetRes, the Independent Community Network Resource Mapping toolkit.
During the #COVIDathon
… we were able to
work on the project definition, clarify the main vision for different markets;
reach an agreement with communities about the common goals;
gaining promise of support from the regional council and cooperation with the online network of 50.000 registered users in Hungary;
having software and mentorship support from the Internet of People professionals to include the Decentralized Access Control framework to protect personal data;
doing promising research on Holochain and having mission statements with developers;
realize visual storyboard about a simple use case scenario: CoNetRes/I2We20-story.pdf
including the Murmurations protocoll in our project;
setting up funding channels and preparations for a crowdsourcing campaign;
setting up the domain and launching the Resources.CollaborativeSociety.eu site on GitHub;
develop basic user authentication and user management for the web application created during the #theglobalhack
create and share the English version of the latest questionary on an easy-to-manage format with google forms Fill the form: https://forms.gle/Ma92PzQWP2asmfNu6
For the MVP
The next steps for the MVP of the Community Network Resource Mapping toolkit are
Clarify the UI/UX of frontend/backend
to have a fully customizable form for data collection, [0--(40)--100]
list available COVID-19 and pandemic solutions as resources and possible deficiencies,
ability to have anonymous profiles with decentralized identity and access management [0--(20)--100]
Good to have
multiple views with filters to display the collected data, such as

an egocentric zone view, where resources can be listed in related zones, like categories [0]
a dependency map, where missing resources can be revealed easily [0]
a geolocation view, where resources can be located providing easy access to them [0]
To reach these steps
good open-source programmers are needed,
stable motivation/incentive is needed (funds, events, perks, etc)
the continuous presence of mentors are needed mostly on the fields of #Data_science #Psychology&Sociology #UIUX_design
The impact
… to the crisis
Because of the globally failing economic, political and *social institutions* fixing our problems from above does not provide lasting solutions to our needs anymore. Many newly formed collaborations are trying to find bottom-up solutions (growing numbers of hackathons are proving that), but there is a high chance for them to fail because of the lack of resources, like technology, money, professionals, etc. CoNetRes providing a bottom-up independent solution for effective allocations of resources -- like technology, money and professionals -- to support collaborative communities to thrive. This process will relieve organizations across the globe, saving a lot of energy, lowering carbon footprint, and providing the chance to adapt to crisis situations in a resilient way.
After the crisis
There will be no "after the crisis" for a while, emergency collaborations and resource allocation will be needed. Open-source alternatives are always needed for communities who prefer independence and secure solutions to support cooperation inside and between communities&hellp; because these are the pillars of a healthy society.
Monetization
The toolkit can't be monetized, crowdsourcing, donations, and even business can be built on it with a pro-rata share to gain money, development, and necessary resources.
Contribute
I don't want to tell people what to do, but hope more and more people will realize the need of the advanced tools for mapping resources and effective allocation and they will use and develop the Community Network Resource Mapping toolkit by their needs to support their community.
Do you see the value
… and want to contribute:
Built With
codepad

holochain

srvctl

ssoiler

vue.js

xmpp