CONFIRMATION: We are an officially registered team for Melbourne Hack 2021 Kumaraguru T Bhuvanesh T G
Inspiration
We wanted to help developers, IT workers, gamers and everyone who uses computer continuously for a long time by making this project. Health Pal is a health companion which can run on almost any desktop!
What it does
Health Pal is a cross-platform desktop application that takes care of your health when you work on your computer.
Using Deep Learning - we periodically monitor the user for detecting :
Heart beats per minute (BPM)
Body posture
Fatigue
Screen time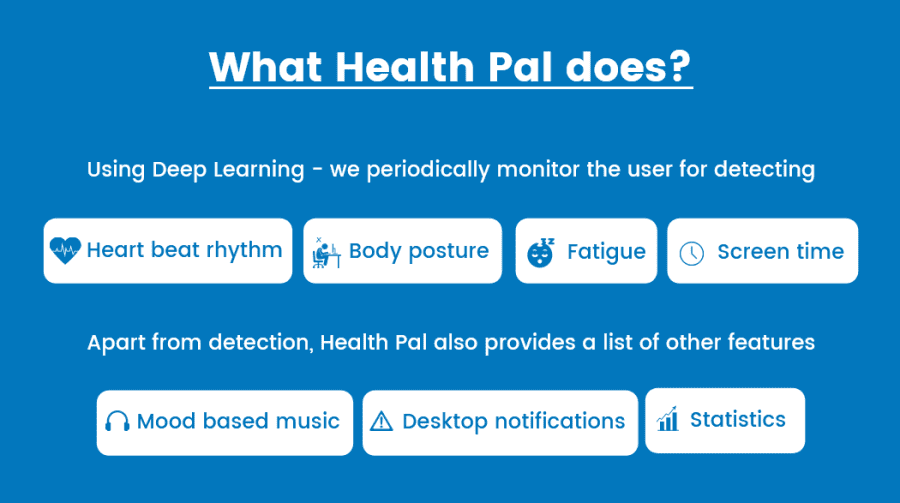 Additionally, we also have features like :
Mood based songs (Plays a motivational song if you look sad)
Desktop notifications where you have a bad posture
Data visualization as graphs
How we built it
We built the desktop application using Electron JS. We also used a Flask server to perform the image processing (OpenCV) and Deep learning (PyTorch)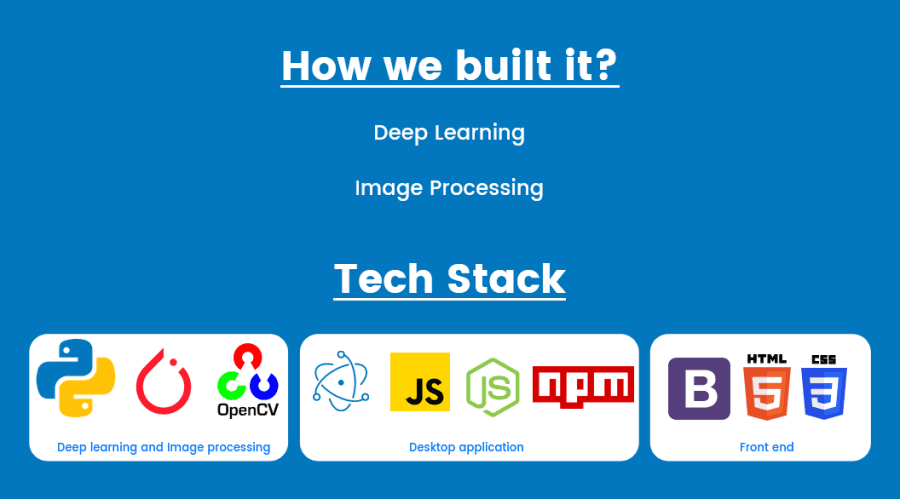 Challenges we ran into
Time management was the hardest
We had very less time left for making the video and we couldn't really cover all the features in it.
Accomplishments that we're proud of
Team work
Having a project submitted successfully.
We are really satisfied with the outcome of our project in such a short time!
This is one of the most technically complex projects we've worked on!
What we learned
We learnt Electron JS.
We got to know about PyTorch.
Got an idea of how to use Flask along with Electron.
Data visualization using JS.
Packaging and exporting an electron project as executable
We learnt really alot about image processing with OpenCV.
We discovered some really cool npm packages!
What's next for Health Pal - Health Companion At Your Laptop
Better UI
Improving accuracy with the model
Making it more accessible and intuitive