Inspiration
Health is Wealth. Each year 10% of the global GDP, nearly $8 Trillion is spent on fitness and wellness. There is a growing consumer interest (post Covid era) in caring about wellness and fitness. Global wellness market stands at more than 1.5 trillion USD with projected annual growth of ~10%
Wellness Market is still majorly untapped by FinTech. With the focus on health consciousness, trends in use of wearable devices to track fitness and wellness data of individual and with innovations happening in FinTech domain - There is a great WIN-WIN opportunity for Banks, Insurance Providers, Fitness Brands and all of these by promoting and encouraging better health for customers
What if my Bank provided me with incentives to stay fit and active lifestyle? And what if this model could create a collaboration ecosystem between Banks and wellness brands / fitness products ? Sounds exciting - and this was our inspiration!
What it does
FinFit 2.0 embeds banking and financial services into fitness and wellness domains. Through encouraging and promoting a fitness lifestyle, our idea aims to create an engaging experience for Bank's customer as well as provides opportunities of profit to insurance service providers and collaboration eco-system between Banks and wellness brands for cross selling and payment rewards.
Customer Onboarding in banking apps creates a sync of customer's fitness and activity data as integrated process. This is achieved through FFDC APIs (for customer onboarding to Finastra's Universal Banking product Fusion Essence) and integration of Google Fit API's which syncs customer's fitness and wellness data from various wearables and tracking devices
FinFit Fitness Rewards Calculator service - FinFit will offer RESTful services over Finastra's FFDC platform which calculates Fitness Reward Points for customer of a Bank, based on rules configured by Bank. These points are calculated on Customer's profile on banking app through synchronization of fitness and wellness data and application of reward point rules. Banking as a Service (BAAS)
Reedem Fitness Reward Points from payments made through Bank - FinFit offers another embedded service for Banks which can be used during payment and purchases through other channels. The reward points are converted to an equivalent cashback or discounts based on Bank's guidelines and can be redeemed during payment or POS. Embedded Finance
Scenarios of embedding FinFit into Wellness Domain and Insurance
For example, if customer is subscribed to an insurance plan from Bank, the fitness reward points can be redeemed as discount for premium payments. This creates profitability for insurance service providers as they would be selling more premiums and lesser claims by encouraging a fitness lifestyle for customers
With consumers becoming more health conscious (post Covid era) and spending significantly on fitness and wellness plans / products, FinFit's embedded service to redeem Fitness Reward Points on payments through Bank will create a profitable cross selling ecosystem for wellness brands and Banks. Example, if I am purchasing a Cult.Fit fitness plan, I can avail discounts through redemption for Fitness Reward Points on Bank payment. This will be powered by FinFit's Banking as a Service technology
How we built it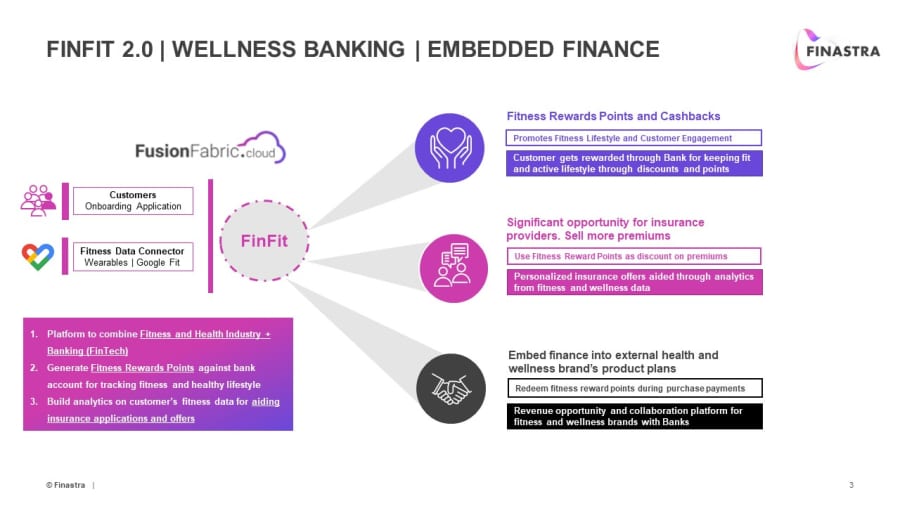 Challenges we ran into
Privacy and security concerns in syncing fitness and wellness data in banking applications and sharing through Open Banking. This requires an established secured platform and evaluation of Finastra's FFDC platform is a good possibility
Accomplishments that we're proud of
This idea of wellness banking can encourage people to stay fit and get rewarded for an healthy and active lifestyle. Health is wealth :)
Tapping into the popular trend of fitness tracking through wearable devices and opening up innovation possibilities through fintech and financial services
What we learned
On technical front, during this Hackathon we learnt the usage of integrating fitness and wellness data of a customer (through Google Fit) with banking applications (through REST APIs and NodeJS).
Explored new and interesting business model of combining fitness with banking and how it can lead to a eco-system which is beneficial for both customers and well as generate revenue Banks.
What's next for FinFit 2.0 | Wellness Banking
Validate the idea for wellness banking as an experimental concept for challenger / neo banks
Develop and offer as a service on Finastra's FFDC platform (BAAS model) for redemption of fitness reward points on payments made through online banking channel.
Widgets to embedded fitness rewards points on purchases from external channels selling wellness products and plans. Powered by Finastra and Bank, this would become an important in embedding of finance into health and wellness industry
FinFit 2.0 prototype with Google Fit and FFDC