Inspiration 🍪
Globally, 1.7 billion adults or 24% of the world's population remain unbanked, yet two-thirds of them own a mobile phone. Decentralized finance solutions on Ethereum can solve the financial access problem. There has been a large increase in DEFI with transaction volumes growing factor of 88x in a year. However, this leads to high gas fees for new and existing users. We set out to create a solution to decongest the traffic jam that is the ethereum main net through this cookie exchange.
Targeting Developing Countries
Globally, 1.7 billion adults or 24% of the world's population remain unbanked, yet two-thirds of them own a mobile phone.
Transaction congestion
Ethereum Blockchain value grew by $109B from Q2 to Q3 2020 with its popularity exploding in the past year with, but its transaction volume has stayed frustratingly stable as the network continues to operate near its limits, leading to slower transaction speeds and hefty fees on the crowded chain due to Ethereum congestion.
High gas fees
As gas fees are skyrocketing because demand for transaction bandwidth is crazy high, while the supply remains steady. Huge transactions piled up in the memory pools of networks like Bitcoin and Ethereum, the laws of supply and demand almost always skyrocket the network fees or 'gas fees' for Ethereum.
What it does
This decentralized exchange called Cookie Swap 🍪provides users with a place to make their trades. * First, there was SushiSwap and PancakeSwap - Now there is CookieSwap! Add swap tokens by funding it with an equivalent value of ETH/ERC20 token being traded. Anyone can swap from anywhere, anytime.
Our AMM market curve formula prices exchange rate swap rate with the equation: x * y = k where x and y are the reserves:( amount of ETH in DEX ) * ( amount of tokens in DEX ) = k. This smart contract adjusts the price as the ratio of reserves shifts away from the equilibrium accounting for non slippage. When swapping with CookieSwap, orders are spread across virtually all DEXs to reduce slippage impact on the final price.
In order to reach the most amount of people, we will do our grassroots marketing through handing out cookies in developing countries. By having people come to our cookie stations, we can attract attention and help people onboard with setting up their crypto wallet and accompanying digital systems more effectively. As of Nov 11 2021, 100,000,000 swap tokens ($CKP) are in circulation. Changing the world, one token swap at a time!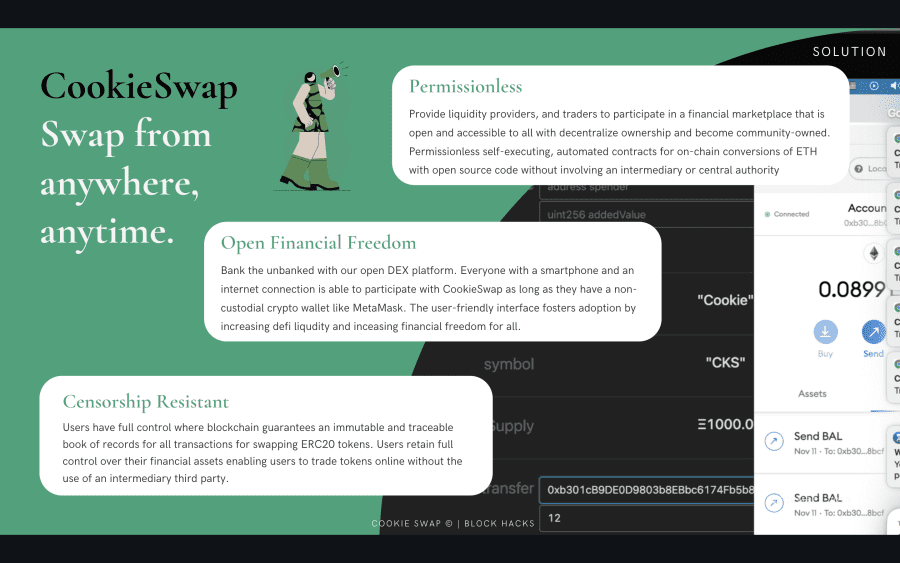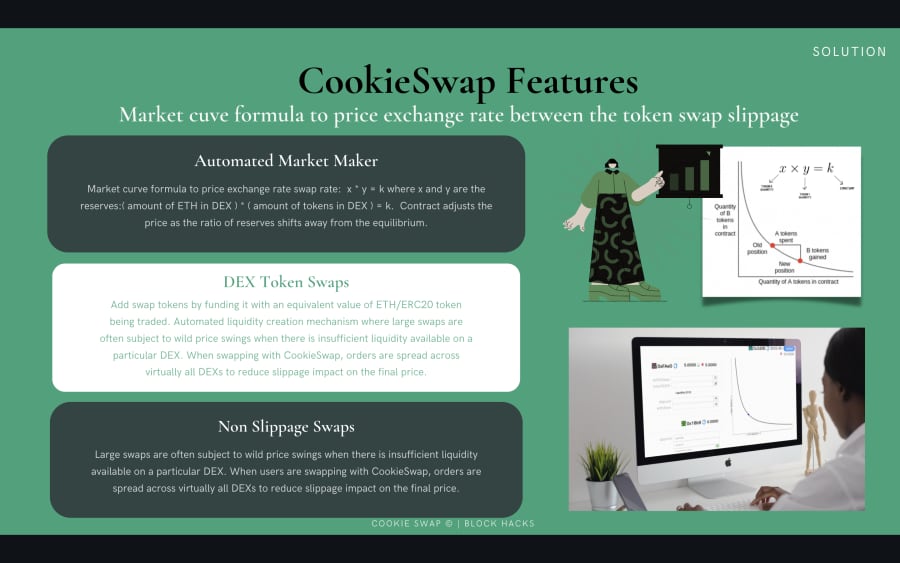 Challenges we ran into
Employing a peer-to-pool AMM with non-slippage to determine token prices algorithmically
Setting up OpenZeppelin ERC20 for CookieSwap token with solidity smart contracts with Metamask's wallet for recipient, maker, and taker fees
Accomplishments that we're proud of
Creating an automatic market where our smart contract will hold reserves of both ETH and 🍪ERC20 tokens.
AMM that provides liquidity that allows anyone, anywhere to swap between the assets
DEX's algorithmic pricing model with a price function on top of smart contracts
UI/UX graphs for users to visualize how larger swaps result in more slippage and less output asset
What we learned
Following a fork of UniSwap, learned more about swapping protocols and how it requires every pool to be initiated with a risk asset paired with ETH.
AMM's function must determine trading dynamics between token and ETH assets and conserve the product of value-weighted quantities of both assets via bonding curve
What's next for CookieSwap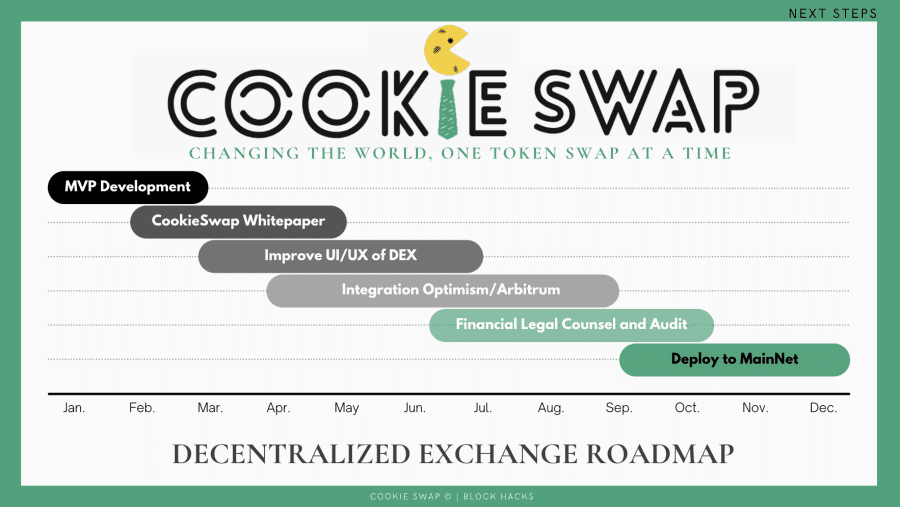 References
Built With
hardhat

infura

metamask

openzeppelin

subgraph

web3