app icon

user flow

how we built it_tech architecture
Inspiration
Community Smile is an integrated payment extension for chatbot users to use when checking out the purchase. It automatically provided you the dropdown list of the non-profits that are currently fund raising and a % of the donation of your total purchase will go to their account.
Many non-profits rely on personal donation to survive. Fundraising campaigns include many elements and types of media. Donors often are motivated by one kind of approach, say a direct mail letter, but then use their computers and phones to make their donations.
Some of them utilize approaches such as online fundraising, smartphone based techniques such as text-to-give, social media fundraising, and email fundraising have come on strong. Even large event-based fundraisers, such as marathons, walk-a-thons, and bike-a-thons, have been magnified through crowd funding using digital tools. Direct mail remains the chief driver of individual giving although digital fundraising grows each year exponentially. Even more important has been the rise in multi-channel fundraising.
AmazonSmile is a website operated by Amazon with the same products, prices, and shopping features as Amazon.com. The difference is that when you shop on AmazonSmile, the AmazonSmile Foundation will donate 0.5% of the purchase price of eligible products to the charitable organization of your choice. While it's limited to only eligible to products purchased via Amazon platform and US Non-Profits.
The Community Smile team was formed via Taipei Women in Tech/Girls in Tech Taiwan facebook group with members that are long-time volunteers from various women in tech non-profits such as Girls in Tech Taiwan, Ladies that UX Taipei and Women Who Code Taipei. With the blooming trend of Facebook page being one of the most important direct sales channel for many stores as well as the rise of Facebook Marketplace, we'd like to expand the impact of a purchase and become the supporting power to enable many more non-profit communities to grow and sustain.
Community smile chatbot integrate with merchant's facebook page and ask customers if they'd like to donate partial % of purchase to a non-profit listed on community smile's database. Once the payment is completed, Community Smile sends invoice summary to both merchant and non-profit to keep track of the payment history.
Community Smile is an integrated payment solution for merchant's chatbot and let their customers to select one of the non-profit orgs that are currently raising fund for their initiatives to donate before payment is completed. The non-profits are not limited to US or any other country and merchants with Facebook page could opt in to use Community Smile for their payment chatbot solution.
What it does
Once customers open up the facebook page of a merchant, it activates the chatbot to interact with. Starting from browsing through the menu for their shopping selection, the customer click "buy" button and will be asked questions such as "how many would you like to order"?
After that, for merchants opted in the Community Smile program, chatbot would provide info on Community Smile and the % of donation setup by the merchant. The money will be deducted from the total purchase amount for donation. Then the customer has a non-profit org/communities list to select from and regular payment questions come before the final payment is processed. Community Smile team handles the invoice summary and notify the selected non-profit for them to claim the donation from the merchant.
For more detail, please refer to the Community Smile User Flow:
How we built it
We use dialogflow, heroku as an interface to handle front end interaction and on the backend we use sheetdb.io and google sheet to store non-profit orgs/communities' info.
Here is the Community Smile Architecture.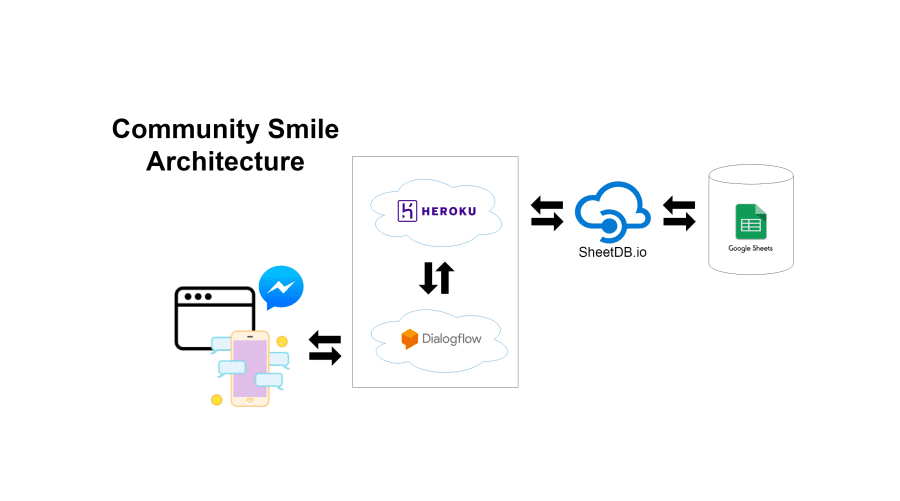 Challenges we ran into
Payment process is not currently implemented in the APAC area and we could not find a way to add donation option within the current Facebook payment process on the dev environment. It took us some time to think through the workaround.
Accomplishments that we're proud of
Having run over 200 events and ave. 70 women in tech events a year, we know how difficult it is if we don't have great volunteers and members that are passionate about our initiatives. While now we are growing fast with lots of partners and companies' support, we'd like to enable more non-profit communities to grow with the help from the merchants with community smile hearts. The inspiration was from Amazon Smile program and we know it's not enough/applicable to APAC countries' non-profits. With facebook platform being utilized by millions of merchants in various languages and focused markets, we think a global community smile program is a valuable product that we should carry on via joining the Facebook Community Challenge because it's really built for every non-profit community, not particular country, region or merchant platform.
With the help from our diverse background team members, we utilized our domain knowledge and quickly built a prototype to showcase what we can do in a few weeks. Some of us are base in Taiwan, some in the US so we could compare the experience of the Facebook messenger payment checkout process with other tools. We are very proud that our women in tech community is building a product to help all other communities to sustain and grow together.
What we learned
When conducting research on how fund raising is done globally, we realized we were the luckier one that most of the time, we can rely on our members to pay for entry fee or we get support(venue or funding support) from tech companies or local startup accelerators. Most of the non-profits can't really survive if they don't get external fund raising initiatives going. It takes time, so much more efforts to market themselves to others and takes time away from what they should be really focusing on.
During the process of building the prototype, we also learned to ask for help whenever needed because community support is there. For example, we need someone who know how heroku works to connect the backend data to front end. After a post on our facebook group, people come and help answer questions from another country. We are very grateful for having such a connected community.
What's next for Community Smile
Make community smile more with community smile. We are currently waiting for App review:APP ID: 202784647203589 and here's the link to the page where you can interact with the bot when it's approved:https://www.facebook.com/communitysmiledemo/
Built With
messenger

chatbot

payment-api

dialogflow