Download the App
---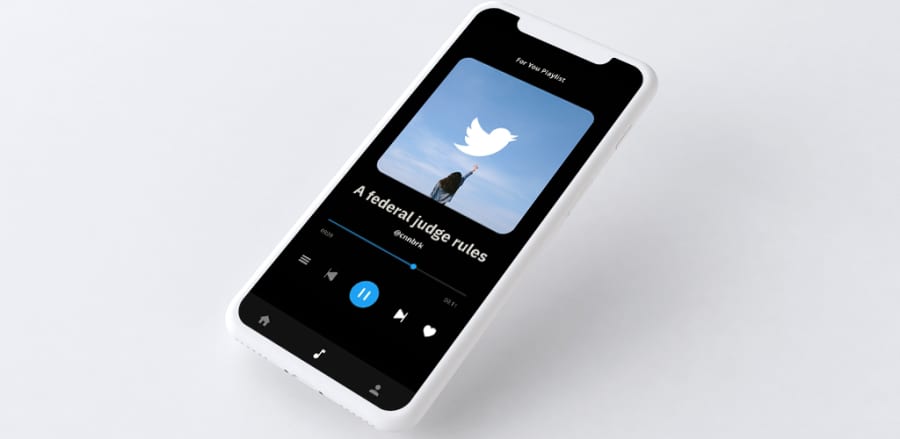 Inspiration
Ever wanted to be on Twitter but it isn't a good time to browse your feed when you are driving, travelling or working out?
What it does
Introducing Chirpy, an audio client of Twitter. Chirpy reads you the best Tweets like a music player so you can use Twitter hands-free. You will get a special playlist which curates content you like best using Machine Learning.
Think Twitter meeting Spotify's music player and TikTok's endless content algorithm. Now you can drive, travel or work out and listen to Twitter at the same time, hands-free!
Other potential use cases can include making Twitter more accessible for the visually challenged and disseminating vital information immediately to people in crises or emergency responders during disasters.
Features
On Chirpy, we have Playlists and Chirps which are the audio equivalent of Lists and Tweets.
Home Screen
At the top you will find the playlist that is now playing.
In the middle, you will find the top playlists. Each playlist corresponds to a Twitter list and tapping on it reads out the latest Tweets to you, just like a music album on Spotify.
At the bottom is the Player widget showing a quick view of the Chirp that is currently playing. You can pause/play or like a Chirp here, just like in Spotify.
In the last section, you will find a unique playlist called the For You Playlist or FYP. Your FYP plays you content that is personalised to what you enjoy by learning what you like using machine learning. Your FYP is also the first thing which plays endlessly like TikTok's For You Page.
Player Screen
When we tap on the Player Widget at the bottom, we will be brought to the Player Screen which can also be accessed from the middle tab. Here, you get more media controls like scrubbing the track and a menu button.
Tapping on the menu button will flip the album art which gives you access to more options, such as opening the Tweet on Twitter and giving feedback.
In the future, you will also be able to retweet, open external links such as news articles, and view closed captions.
Media Player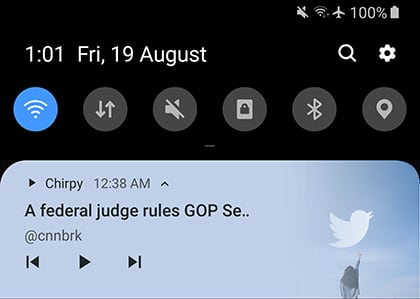 That's not all to the user experience. Chirpy also exists as a music widget in both the notification panel and lock screen on Android and iOS. It also runs in the background so you can use it even when your screen is off, just like Spotify.
Chirpy also provides playback and media controls from external headset devices like your headphones, AirPods, or even your car.
How we built it
Frontend: React Native
Backend: Python
Please see this repository for more details on the infrastructure and APIs. Access has been given to testing@devpost.com and chirpdevchallenge@twitter.com.
Challenges we ran into
Building a full-stack app + managing cloud infrastructure + app distribution in a short span of time.
Accomplishments that we're proud of
Creating scalable yet fast content delivery
Making Twitter more accessible to the visually challenged and emergency responders
What we learned
Using cloud infrastructure for deployment & development
Designing a good user experience and making the app accessible to more people
Twitter's v2 API is easy to use, fast and is awesome :)
What's next for Chirpy
In the future, Chirpy will also support:
Integration with Siri and Google Assistant for voice controls
In-app retweets
Hiding disliked content
Reading out a user's home timeline as a Playlist
Integration with Twitter Spaces & Twitter OAuth
Public app distribution via App Store and Play Store
---
Details on Technicalities of Project
Please see this repository for more details on the infrastructure and APIs. Access has been given to testing@devpost.com and chirpdevchallenge@twitter.com.
---
Category
Main Category
Content discovery of Lists & Tweets via (i) audio of latest tweets, and (ii) content personalisation to user's likes
Secondary Category
Public good app: listen to emergency news broadcasts hands-free during humanitarian crises, disasters
Value
Market opportunity (Financial value)
Audio forms of entertainment are on the rise, thereby creating a huge market opportunity for ad revenue especially from podcasts, audio blogs and the like. According to Forbes, 37% of the U.S. population has adopted podcasts with 100 million Americans consuming 1 podcast per month in 2020. This figure is set to increase to 125 million this year. Advertising budgets on podcasts by companies are set to increase as well and will increase to $1.7 billion by 2024 fuelled by YoY growth of 20%. Podcasts also have a young audience - the median age of listeners is 34.
While Chirpy's Chirps are strictly speaking not podcasts, it can have the potential to capture a portion of the audio entertainment market with Twitter's trove of data, frequent content creation from users, and wide outreach. Using the forecasted total podcast ad revenue as proxy and Chirpy x Twitter capturing a ballpark figure of 5% market share, that is $85 million in ad revenue per year in 2024 in the U.S. alone. Chirpy can thus create a new revenue stream with the new advertising opportunities from a potential increase in time spent on Twitter and audio ads.
Chirpy provides a new way for consuming Tweets will provide access to new interaction opportunities where people were previously unable to scroll and browse Twitter using audio-based human computer interaction. This can create more value from Twitter's repository of user content and help cement Twitter's dominance in the social media space.
Accessibility (Social value)
Chirpy has the potential to help the visually challenged, and facilitate accessibility to news about crises for emergency service personnel, journalists and the public.
Creativity
Unlike traditional text-to-speech readers like ReadSpeaker and Social Speaker, Chirpy is a full-fledged audio player with media controls, background playback service and integrates well with external audio devices such as headphones, AirPods or even your car. This allows users to truly experience Twitter hands-free, and can also help the visually challenged and emergency responders in times of crises.
Chirpy also makes use of machine learning to automatically recommend users the most relevant content across multiple Playlists (Twitter Lists) by learning what they like. This can help to promote content discovery and potentially increase user engagement and ad interactions.
Quality / Mission Alignment with Twitter
Chirpy complements Twitter by facilitating information and idea sharing with the community and helps to tear down barriers by creating a new avenue for interacting with Twitter via audio.
It also abides by Twitter's principles of making things straightforward, being fast, free and fun, and helps make content more accessible to the visually impaired.
Design: UX & UI
Chirpy features a user-friendly yet modern design which follows Twitter's principle of making things straightforward.
The Home Screen is simple and presents to users the top Playlists with each Playlist featuring beautiful album art embossed with Twitter's logo. App interactions follow well-established interface designs of popular music players like Spotify and Apple Music, thereby creating an easy-to-use experience for users.
The Player Screen forms the core of the app where users will get all media controls. The left menu button also elegantly displays more controls by flipping the album art to reveal other buttons such as opening the Tweet in Twitter or allowing users to immediately provide feedback for the Chirp. This allows for a clutter-free experience which is also intuitive for users.
Finally, Chirpy's ease of use is also demonstrated in the For You Playlist being the default playlist which users will automatically tune in to upon opening the app. Users can therefore go about their day immediately experiencing Twitter hands-free!
---
Download the App
Built With