Inspiration
Having been on a night out last weekend, I sent my long-time friend a reminder that he owed me 15 bucks. This is what sparked this project. We had been following up on trails of reminders following many such outings and we realized this minor inconvenience was so prevalent among people that we came up with a system that could ease out the constant nagging.
What it does
Chippin is a money-pooling system that would hold money as long as the users want. Users form groups with people they want to contribute funds to and put a uniform cap on the members' contributions. Behind the scenes, the system calculates the ratio in which each member had contributed funds finally. Users tap on auto-fund-dispersal before deleting a group, the remaining money is returned back in the same ratio each member had contributed.
Contribution Ratio
The system compares the upper limit on contribution set in the group and tracks individual contributions. When the time comes to delete a group or the members want the remaining funds back, the remaining money is split using the contribution ratio to maintain the fairness of the contribution.
Sub Groups
It is often found that the entire group is not available for an event. ChippIn supports forming temporary sub-groups that gets deleted automatically after a given period. This saves users from the hassle of:
Keeping track of individual contribution for an unplanned event.
Asking other members for the money they owe.
Improving their overall productivity as all finances are managed not over TODOs, reminders or chat messages. Instead, they are automated by Chippin.
How we built it
Our project quickly took a structured approach after having a few arbitrary brainstorming sessions. This is how we executed ChippIn:
---
Idea Validation
Collected reviews from 100+ potential customers.
More than 75% of potential customers joined the pre-launch waitlist of our product
Our target customer base is groups of people engaged in a particular activity like dining out together, working on a project, etc.
Here are a few interesting statistics about the total market size of our product:
Bloomberg says that 30% of Netflix's users share their accounts.
According to an NRAI Survey, Over 83% of Indians prefer company when they dine out.
Around 82% of the total population on Earth prefers travelling in groups and sharing expenses.
41% of Americans Pinch Pennies When Dining Out With Friends
---
Product Feasibility
Having confirmed a simple yet effective feature list for our app, we went through the Rapyd API Documentation and involved ourselves actively on the official slack channel and forum.
Initial User Feedback: We removed extravagant features from our initial prototype designs based on a quick survey in our network. This helped us simplify the fund transfer process using contribution ratios.
Rapyd API Integration: The Sandbox Environment provided by Rapyd helped us simulate plenty of transaction-related operations. We resolved our problems with authentication headers on the forum and tested all the required APIs using POSTMAN.
Application Design and Development
The design was made to be simple and efficient where the focus was on helping the user keep track of his payments and groups. The clean and minimal design helps establish trust with the user and allow him to monitor all transactions in his group and make the payment process very easy.
We decided to run the final design development and server implementation in parallel. Following a series of POSTMAN tests, we developed the following modules:
Node SDK for Rapyd API: This helped us quickly make use of the API without bothering the headers and timestamps.
ChippIn API: The core API makes use of Mongoose and Rapyd Node SDK every now and then to make the transactions happen.
Documentation: The entire activities in the system and entire system documentation involving app, Rapyd API, Mongo database and Express server is documented here.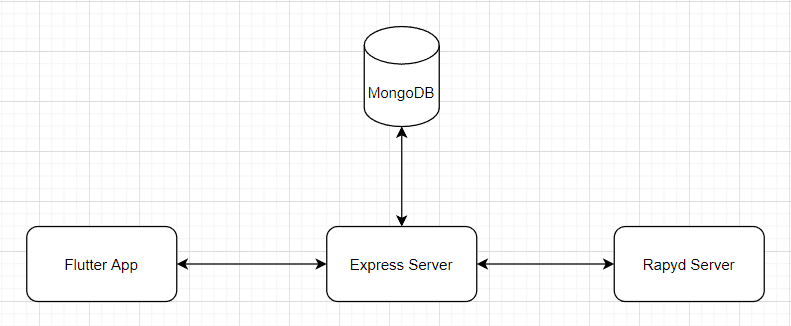 Challenges we ran into
There might be a few legal and tax complications regarding where the money is stored.
UPI is one of the fastest money-transfer tools in India. So, we will have to partner with banking platforms to make that happen to our product.
Accomplishments that we proud of
Managed to get pre-launch user traction using our waitlist
Built a premium quality product by conducting customer research and interviews with potentials customers to understand their requirements.
What we learned
Retailer consumer market: With our extensive customer and market research, we tried to understand consumer-expenses habits and how they manage these expenses using existing products in the market, e.g. goDutch, Splitwise, etc.
Credit-based business: We did case studies on existing FinTech solutions in the market to understand the concepts of the Credit-based Business Model and its requirements.
What's next for
Coordinate with product and relationship managers at top fintech companies in India like Razorpay and Paytm to understand the implementation of our product in depth.
Consult with an attorney to understand the legal side of the project.
Conduct Facebook surveys and public posts to understand user requirements and find the product-market fit.
We have a few features lined up after the initial release such as

Coupons and special discounts for loyal customers
Give out credits for loyal customers
Public groups, that can be shared a URL
Built With