Why Chimoney
When planning AfricaHacks 2020, we wanted to issue airtime/internet data to thousands of participants across many countries so they can join live sessions. We looked around and there is no solution that exists to send airtime or rewards to thousands of people with the click of a button and without asking for a phone number, telecom provider, bank details, and other information.
We needed a solution that was so simple that it can integrate with our Hackathon platform or other platforms like Devpost and Zoom and organizers can set an amount and send a token or reward to all. Chimoney solves this problem and more. Read more about why I created Chimoney here.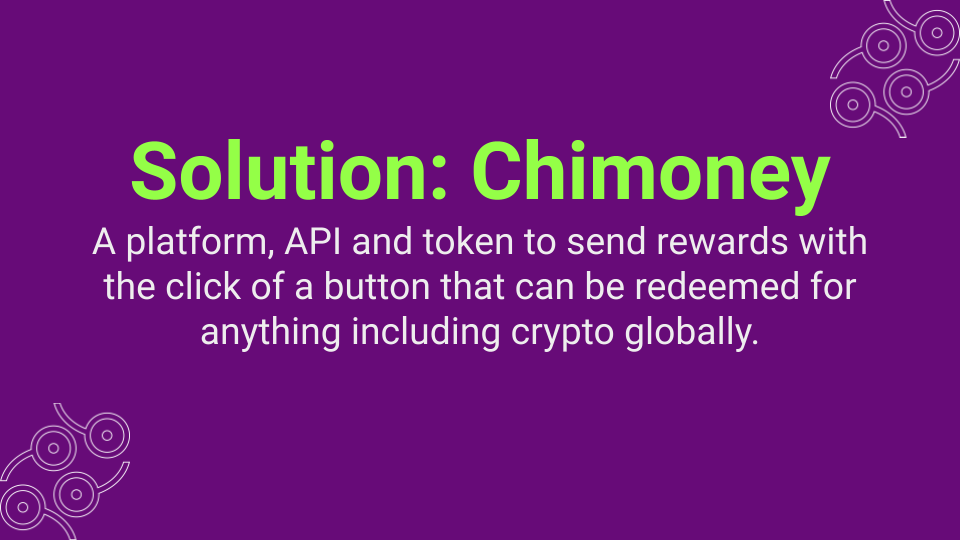 Simply:
There is no easy way to send a flexible reward/gift globally asking for private information
The gap results in sending gifts that many people do not redeem
Many recipients are left disgruntled and engagement suffers because in some parts of the world people pay by the minute for each megabyte of data they use
What it does
You can send rewards or gifts privately to Twitter usernames or emails with no bank account, phone number or other information. In a Hackathon or virtual conference setting where you want to reward engagement in real-time, Chimoney is the solution you need because you can import all qualified Twitter usernames/Zoom/Devpostt/emails or use the API to send the tokens which can then be exchanged to BCH.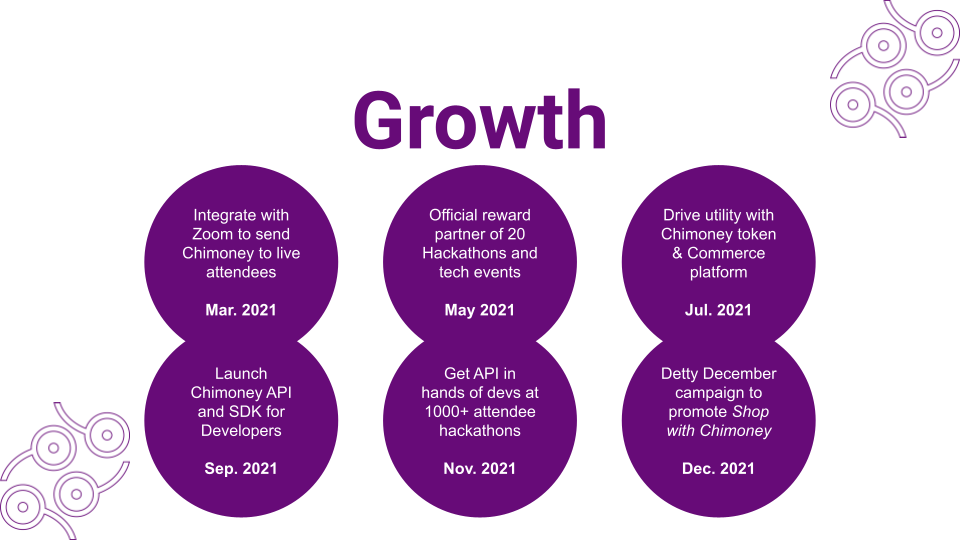 As an event organizer or employer, I can quickly issue Chimoney, and I can be confident that my budget will not be exceeded.
As a receiver, I am not tied to an item or credit or gift card. Chimoney gives me options, and I locale airtime/phone credit, mobile money topup, fiat or even crypto.
There's price transparency policed by the receiver of Chimoney.
How I built it
It's built by first talking to users. And after the MVP was built, we issued the simple "tokens" to users who then redeem them. Then we integrated with the non-custodial Signup.cash wallet to enable easy onboarding of users that are new to Crypto. No need to download a wallet to get started.
Challenges I ran into
Security of web wallet was a considering but we decided to go with that since it brings on more people to the ecosystem. We also then recommend a mobile wallet.
Reconciliation since senders of Chimoney are paying in Fait so it was a challenge to avoid FX losses. Now, we only redeem on the spot when users initiate.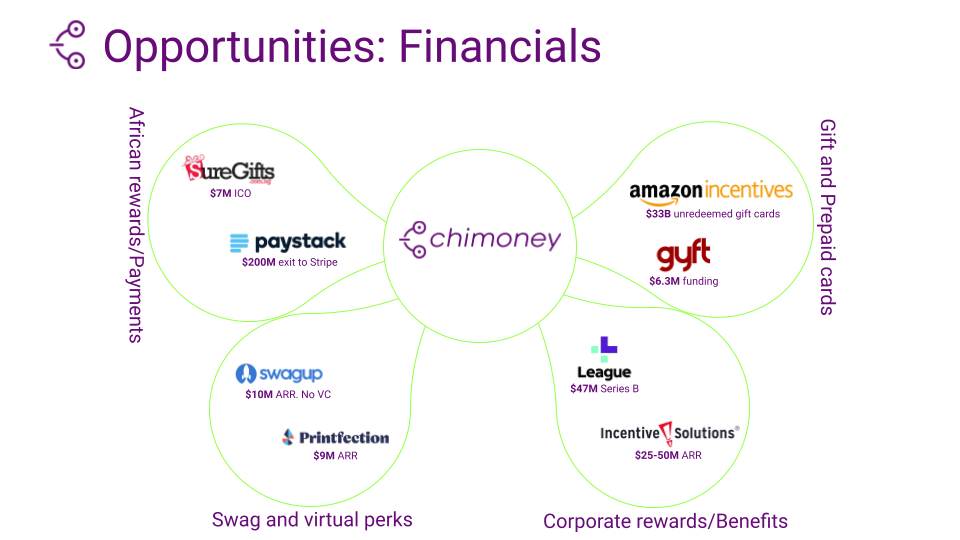 Accomplishments that I'm proud of
Engagement in our twitter with the small contest we ran to announce the Chimoney to Bitcoin Cash feature. See Twitter post
57,000 Chimoney has been redeemed after we launched
Because of change in regulation in some African countries, some friends reached out today after they saw the BCH feature to use Chimoney for their international remittance
What I learned
Learned about BCH and the tools and amazing support in the ecosystem. Have never built with Bitcoin
Security is key even with small funds
Go non-custodial
What's next for Chimoney
Integrate with Zoom so they event hosts can send Chimoney to live participants
Launch and API/SDK to connect with event apps
Enable Developers to integrate Chimoney to their apps
Support SMS/USSD transactions so that it is inclusive to more people especially the unbanked
Launch the native token to mainnet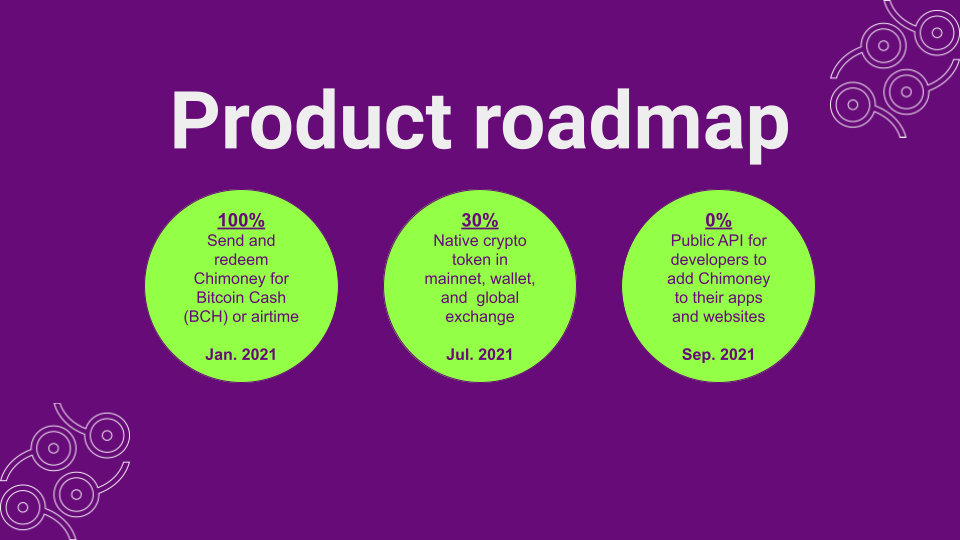 Test it out (Real Chimoney)
If you're a Judge or just curious, please, try one of these links out. They are links to actual 1,000 in Chimoney ($1) that can be exchanged for BCH right now.
Please, try the next link if the one you want to try is redeemed by someone else.
Thank you for not using them all and letting the Judges have something to try
Vote
SLP Address: simpleledger:qpk0c0tj3tjgg5pepmtcaalvfm4vqjx6agh3dm9245
BCH Address: bitcoincash:qpk0c0tj3tjgg5pepmtcaalvfm4vqjx6agm2xqs2t2
Built With
async-bch

bch

bitbox-sdk

bitcoin-cash

bitcore-lib-cash

flutterwave

material-ui

next

signup.cash

slpjs

sweetalert