Inspiration
The inspiration for this project came from a collective interest in exploring the category of "Construction and Field Workers" since a few of us had experience and/or a general interest in the field. We began with an initial Design Sprint using Miro and Zoom to start recognizing problems the construction industry faces that our team could build a solution for. We decided to further our research findings by reaching out to individuals in the construction industry through Reddit where we were able to gain key insights and feedback about construction management software currently being used in the field and how it currently functions for the users. These findings helped us define the concept to move forward with, define how it could work, recognize where there's an opportunity for it in the marketplace, and also identify the core function of our MVP. In the end we chose to create an app that would provide monday.com users with easy access to a bid management platform.
https://www.reddit.com/r/Construction/comments/j9wclo/construction_management_software_question/
What It Does
BidHub is a bid management construction app designed to streamline bidding for prime, commercial and residential general contractors inside Monday.com. BidHub enables users to easily set up a new project using a pre-formatted document where they can then create custom RFPs to push into the BidHub marketplace for qualified vendors to bid on. BidHub's mission is to deliver a tool that construction professionals can count on to gain direct access to qualified subcontractors, suppliers, and manufacturers across various trade categories, all while driving a more efficient bid process.
With the BidHub app you can:
Create projects instantly to start receiving bids securely and effortlessly.
Accept or decline offers with ease.
Easily send and assign project invites to an active subcontractor network.
Vendors can find projects to bid on, create a bid, and view the progress of their proposal under review.
Value Proposition
When we set out to build this app our goal was to ensure that what we were creating provided value for both monday.com and the end user.
For the end user, BidHub has been designed to save time and eliminate pain points in soliciting bids for contract work, allowing the user to perform all necessary bidding functions in one central space. BidHub enables users to seamlessly find the right bidders while making it easy for invited subcontractors to respond to bid requests. Subcontractors are also positioned for improved rates of success with greater bidding opportunities. BidHub can be used at any stage in the construction process. It is a platform that helps to expand business networks and contact databases while delivering a more streamlined process to create, view, manage, and bid on projects.
For monday.com, our BidHub app is uniquely positioned to drive new subscribers to the monday platform. Subcontractors interested in bidding on a project require an active monday.com account. We believe that this approach is also ideal for establishing a new vendor qualification process to help ensure long-term success for all users of the app.
How We Built It
To build the app we used Monday's API to get the user's details from the monday.com platform. We also used GraphQL to ease our process to access the database. React was used along with GraphQL (apollo-client) and SASS for the User Interface section of our project. The use of an open-source headless CMS software, Strapi, was used for the backend section of our project. Strapi uses sqlite as the database, and we've used Google Cloud Platform alongside docker to host the Strapi.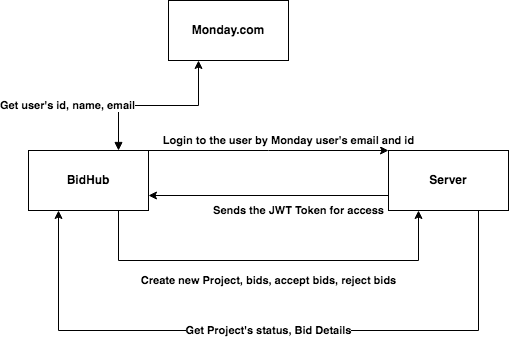 Challenges We Ran Into
While building the back end a few challenges we ran into included uploading issues while hosting Strapi to Heroku, as well as issues while using MongoDB with Strapi on Heroku. We also ran into user's permission issues while using GCP's VM instance. On the front end, working with Graphql for the first time was challenging. For the UX/UI of the app, one of the challenges we encountered was trying to figure out how a subcontractor would be able to receive proposals to bid on. Consideration towards the site app was a bit more problematic than expected, but we were able to figure out a solution to this by ensuring that anyone eligible to view and bid on a project must be a monday.com user.
Accomplishments That We're Proud of
We're extremely proud of how we've been able to create an app that has the potential to deliver a viable business solution for the construction industry within monday.com. Through this process we've all gained more experience working together as a team of designers and developers, much like a small business would, to identify a problem and provide a solution to it. While we recognize that our app has ample room for improvement, we feel comfortable and confident in our ability as a team to be able to utilize our skills to make it happen with limited barriers in our way. Throughout this process we overcame numerous bugs, glitches, errors, and failures, but in the end we're proud of what we've accomplished and the incredible opportunity it allows to see just how far it can go.
What We Learned
Within our team we each learned something new and gained various skills as an outcome of this project. For example, how to query using graphql and how to work together as a team of designers and developers to translate Figma designs into a usable, developed product.
What's Next for BidHub
This highly scalable system provides ample opportunity for further improvements and integrations. Our goal for future iterations is to include:
A budget management feature with quick and easy access to reports and documentation.


A centralized messaging feature to communicate and collaborate directly with project stakeholders, vendors, and contractors. Ultimately this would help users receive better responses from invited subcontractors and help facilitate communication with greater efficiency, producing more timely and accurate bids.


An option to compare multiple bid proposals at once to determine the best option to approve.


The option to push project and subcontractor information directly into Monday.com to avoid entering redundant data. In other words, streamline projects between monday.com and BidHub without creating a project twice.


Improved project information including synchronization of project documents including the option to download plans and specs, drawings, etc.


Integration of a guided onboarding process to showcase key features and app highlights.


Enable users to export project information from BidHub to Monday.com for seamless project management.


Integration and automation of the subcontractor qualification process.