Are you happy to join a 500 people Teams call ?
We were not.
So we created 3D immersive spaces that allows you to join your digital office replica, talk to your colleagues and launch calls in a natural way. We've developed a Teams application with a new meeting extension and tab Teams tab. Here's a video on how it works :
Hybrid work is here to stay. However, keeping a distributed workforce aligned and up to date can be a challenge that requires workers to constantly switch between applications and search for the latest information. With Aptero, you can organize your events and meetups in a 3D innovative space. You can in an immersive world in Teams :
Create a collaborative immersive 3D Space environment in Microsoft Teams with Aptero
Organise 3D events, trainings and much more
Create a digital replica of your real life office
Share and access files quickly
Discover how 3D Spaces can organize teambuildings and events virtually
Our tool comes with multiple features :
Create your 3D avatar directly inside Microsoft Teams
An avatar created from your photo
Choose your clothes from a wide selection
Meet your colleagues in an informal way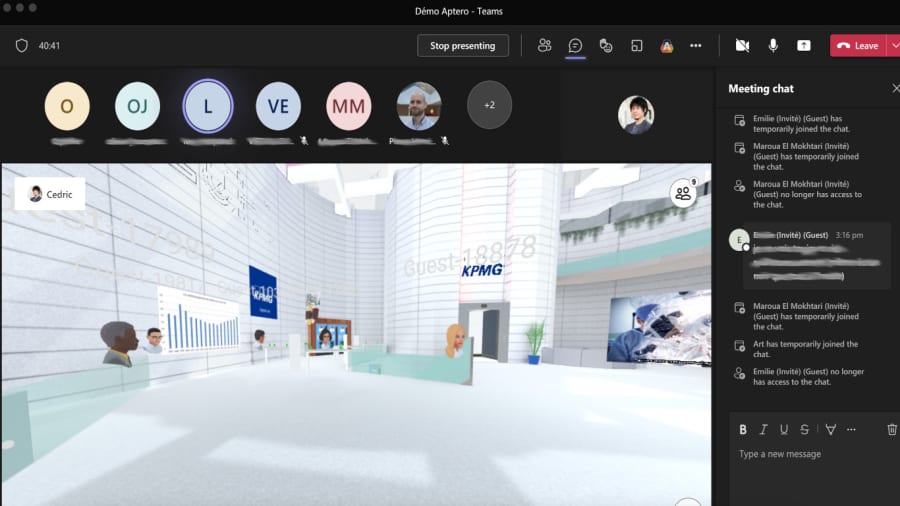 Discover 3D Meetings directly in a Teams meetings
The meeting organizer can add the 3D space with a single click
Call whoever you want to talk to inside the 3D Space
Learn about who is inside the virtual event by clicking on his profile and calling him separately
Learn in a 3D immersive space in a Tab
Join conferences that are happening inside the 3D space tab with a simple click
Discover your suppliers factory directly within Microsoft Teams
Launch an immersive quiz or Teams functionalities with a 3D space
A question about how to use and Install ? Here's a video we've made for it ! https://youtu.be/0o4CC4k6dZQ
Prizes and how to build
Before building it, we went and asked multiple companies how they would use it. We now have over 15 big companies using Teams that are ready to launch our beta once it's ready !
Challenges we ran into
Over 5 review sessions with Microsoft teams for debugs and improvements, it has been a big challenge to understand the whole Microsoft world.
Accomplishments that we're proud of
We're finally releasing our app and development after more than 6-7 month of work !
What we learned
All about how Microsoft Teams backend is working, permissions.